A Rare German Beaufort Whistle, Made by Deutsche singal Instrumenten Fabrik, (Martin's Signal)
Beaufort whistles are usually of British origin, few rare ones are from the U.S.A and Germany. Here is a rare one .
Deutsche singal Instrumenten Fabrik , Signalpfeife as appears in catalogue.
See an article about this maker
.
model # 178
made 1900's to 1930's
Here is the actuall whistle, a model used for the Hungarian transportation bus company in Budpest.
L: 85 mm
Two notes: High G & Bb.
Made of nickel plated brasswith unique features as steppet top and asquar cut end cast mouthpiece.
Very well made with high volume.
The Budapest tram way in the wikipedia
http://en.wikipedia.org/wiki/Trams_in_Budapest
BSzKRt oval stamp on this whistle, the whistle was made plain with out stamps as well.
BSZKRT - Budapest Székesfõvárosi Közlekedési Részvénytársaság
(Old Hungarian Transport Co.)
The Hungarian Bus Companies started at the last quarter of the 19th Century , read more about the various ones at the Wiki.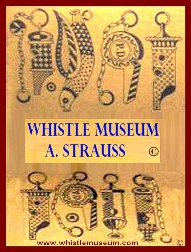 Whistle museum, A.Strauss All rights reserved, please do not use any part of this web page without a written permission from the author
.
Trackbacks