Antique Round Pea Whistles. Jennifer, A.Strauss
My research of round pea whistles led me to a new group of round pea whistles that have no hole or loop for lanyard, whistles with undrilled top.
Early English Whistles, Undrilled top type (3) Jennifer,
Length; 64 mm body width 16,2 mm and 18.6 were rings are. V. Heavy Gun Metal. Supebly made by a great craftman.
Mushroom style top, and three heavy rings . Machined out of a rod with a metal fipple.
Note the blue V mark and the original intricate kneat knot, probably a sailorman knot.
reminded me of the
Gordian Knot
,Unknown date, Pre 1850.
A simmilar one pre 1818. will be posted in the future.
Here are some previous whistles, concerning an up coming article about early antique british whistles of the undirlled knop type. and a c. 1850 whistle from Japan.
http://whistlemuseum.com/2012/03/12/antique-round-pea-gunmetal-whistle-with-mushroom-knop-elizabeth.aspx
http://whistlemuseum.com/2012/03/12/14th-century-round-whistle-dug-in-kent.aspx
http://whistlemuseum.com/2009/04/20/exeptional-antique-round-whistle-japan--%E6%B1%9F%E6%88%B8%E6%99%82%E4%BB%A3and-a-brass-one.aspx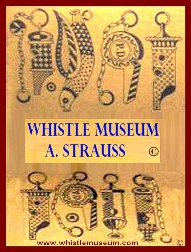 Whistle museum, A.Strauss All rights reserved, please do not use any part of this web page without a written permission from the author
Trackbacks