Horns and horn shaped Whistles, History, Manufacturers and Examples. A.Strauss
Here is a fascinating subject , horns and whistles go together many times made by the same makers. usually being much larger then the smaller mouth whistles I write about.
This article is
underconstruction
and the research led me to many makers that are of interest to whistle collectors as well .
From Ancient Horns (see the very last pragraphs.) that brought down the walls of Jericho & the Jewish Shofar horn (Scroll down), to 18th 19th century to
musical horns, military horns , marine horns, Fog horns to classic hunting horns, railway signal horns, toys , souveniers and more.
It is a vast subject.
I will bring British, German, French , and USA made ones and a humble list of manufacturers. some with extended details & history.

I devide Horns into none reed horns and to reed horns or reed whistles with a bell shaped resonator that are valveless, and to the same ones with one or more piston - valves .
I will add and bring more info gradually, and any contribution, photos, details or corrections are welcome.

English - British Horns & Makers.



Reed horn, reed whistle with a bell shape resonator.
by William Clark 1863.

Dublin 1884 by John Smyth Hunting horn.

List of Horn Manufacturers ( & retailers)

Boosey & Co - In the 1850 Boosey & Co started making brass and wind instruments and merged with Hawkes & Son in 1930 .
Boosey & Hawkes Ltd Boosey & Co merged with Hawkes & Son in 1930.

G.B.Butler - George Butler started up in Dublin in 1826, then opened a London branch in 1858.Marked "Butler Haymarket London and Dublin".The Haymarket address puts it between 1865 and 1898.

T.Callow & Sons - 8 Park Lane , London.

Distin, John Distin (1798 -1863) the father and Henry Distin (1819 - 1903)
1845 to 1874 Manufacturers and retailers of various brass wind instruments, first selling from their residency in Manchester Street, Manchester Square, London.
The Distin family ; John, the father, and his four sons, George, Henry John, William Alfred and Theodore were one of the most successful instrumental ensembles in the history of Britain. Their performances as a brass quintet, and later quartet, became legendary. (See full article here) Henry Distin of 31 Cranbourne St , Leicester Square.
In 1851 Henry Distin took over the Buisness and it became Distin & Co.
The company was highly sucsesfull and in 1857 a full catalogue of their nusical instruments appeared.
In 1868 -Boosey & Co bought out Distin's flourishing buisness, but kept manufacturing under both names.
Distin was known for many various patents including the Ventile horn and Light valve
and was influenced by french musical makers which were highly advanced in the art of making brass musical instruments in the first half of the 19th century.

Henry Distins was also involved with whistle making in Philadelphia, in the 1880's and 1890's.
Henry Keat & Sons - Henry Keat have made horns for all the leading saddlers including - Merry , Whippy , Wilkinson & Kidd , Cornish & Rogers as well as Army Navy Stores and Potters of London .When Swaine & Adeney took over the business of Kohler & Sons in 1907 Keat & Sons made all their Hunting Horns till 1984.

J. Higham, Manchester , L.M.S Railway signal horn prob. 1860's


J. Hudson & Co. see article here.


Two reeds, see Dog, Marine signal horn.
-


More about Acme horns will be uploaded

Keith, Prowse and Co. 48 Cheapside , London in the 1800's

Kohler & Sons 1780 until 1907 , manufacturers of horns. The company achieved Royal Appointment in 1801. In 1851 & 62 they recieved the Exhibition medals.
In 1863 they became Kohler & Sons. 1907 the company was aquired by Swaine & Adeney , K & S. Kohler horns carried various .
Their various adresses can usually serve as a guide to dating their whistles and horns. see table below.

Kohler & Son Makers 61 Victoria St.

Addresses
Kohler - Whitcomb Street London 1790-1793
35 Henrietta Street 1830 - 1863
12 Gt. Chapel Sreet. 1863 -1881
116 Victoria Street Westminister 1882 - 1888
61 Victoria Street 1888- 1896 Westminster (From Covent Garden) London .
167 Edbury Street , Eaton Square , London 1902 - 1904
185 Piccadilly ,Covent Garden 1906 - 1907.



!860's Kohler & Sons Makers , Bromley Kent (from Covent garden) London.



Louis Jullien sold horns from his music shop in Regent Street which he operated from the mid 1840's until he went bankrupt in 1848.
Parker & Sons - London
Rousselot & Co Scipion Rousselot Importer of musical instruments London 1850's
Rudall Rose & Carte operated from various addresses in the mid to late 1800's. From 1852 to 1857 they were at 100 New Bond Street , London. From 1858 till 1878 they resided at 20 Charring Cross , London. And from 1878 onwards the address was 23 Berners Street , Oxford Street , London
Swaine & Co -James Swaine started in business in 1798 and moved to 185 Piccadilly in 1835 .Swaine & Co dates horns to before 1845 when James took his nephew into the business and the company became Swaine & Adeney SWAINE & ADENEY SWAINE & ADENEY 185 PICCADILLY LONDON PROPRIETORS OF KOHLER & SON MADE IN ENGLAND. Horns made after 1851 usually bear the exhibition medals from that year. Swaine & Adeney merged with Brigg's in 1943 .

German

Metal Horns were made in the triangle cities of music makers since 1750 or earlier,
Deutsche Signal Instrumenten Fabrik, Martin Signal Company was probably the largest whistle maker in the late and early 20th century ,in Germany making superb whistles of all kinds some some fantastic original designs and some orf the rarest whistles ( an article is dew soon ). In the 1920's and 1930's the factory had actualy a large Orchestra of horns some with very original designs.
I will bring photos of this band in the future, from the catalogues.
The company moved to Philipsburg in 1954 after generations in Markneukirchen .
Their Logo of Signal with an arrow or M and arrow Came into use
in a later date after 1910 , in a still unknown date, but it was used in the 1920s and 1930s.
The next examples are all made by the manufacturer mentioned number 3 may be by J. Zimmermann.



German signal horn late 19th century


Hunting horn reed whistle witha round dog whistle mounted on top of the bell, made by Martin's Signal Co. the round wire type loops were used as well as round bubble type knops for lanyard.
Hunters prefared leathermade lanyards which were quite.


This simple horn was used for railway signals.


Note the unique rare mouthpiece with lower tooth grip.


Hunting horn Note the Escargot type whistle mounted on the longer horn, the valve serves to switch between the two horns.
The musical interval is....
=


The one above has a round pea whistle, the whistle on this hunting horn that was made for horseman was actually a dog call.


Martin Signal Company , made dozens of variations for their Pre War WWII orchestra, this elaborate model ( I belive # 5148) was made in the mid 1950s to mid 1960's in the old tradition.


An example of a high quality Military Bugle Horn c. 1900 by Martin Signal Co.
To be cont with catalogue photos

German And Austrian Post horns ....
Toys and toy reed whistles with horn and straight horn shape were also
very popular , here is an example of the 'Superior" model that was made eith a bell spring and mechanical finger ringer, these bells were popular
as an edition to toy Harmonicas as well.
The same whistle came in 4 or more size variations, the earlier once pre 1923 or a bit later, were made with porclain mouthpiece and later with plastic mouthpiece.
the model was made since 1900 I believe by a company named Calura, that was established 1840. and many tin whistles for export between 1900 to 1930's.


American. U.S.A.


Length; 11.5 inch
Old American Civil War Period Horn Bugle with silver mounts ca. 1860's.
The horn carved by B. F. Quinby who worked in the Boston area in the late 1850's through early 1860's. The horn was made for a W. N. Walling of Auburndale
silver and brass fitting made by the Boston Musical Instrument Manufactory. Measures 11 1/2 inches


small bugle shape toy c 1860's.


Wilcox & Crittenden & Co. Inc.Middletown, Conn. E.Z. Blow Fog horn for boats & marine horn ( the complete whistle looks almost the same as the Perco below)
History of the company, Is available from the G. W. Blunt White Library.
And I bring it as written from this link :

"History of Wilcox, Crittenden & Co. In 1847, Middletown was New England's largest inland port, and it was in that year the company that would become Wilcox, Crittenden & Co., Inc. was established. According to the centennial history of the company, it was in Ben Butler's sail loft in Middletown that Eldridge Penfield first conceived of developing a metal grommet (later to be called the sail eyelet grommet) to replace the rope grommets that were currently being used by sailmakers.In partnership with his uncle, Ira Penfield, Eldridge Penfield formed the firm of E. H. & I. K. Penfield. The business was opened in a small building at the rear of the property located at Main and William Street in Middletown, and was the first company in America to produce metal grommets. The first grommets were stamped out using hand presses which were operated by the partners and by William Walter Wilcox, whom they had hired.
For the next two years, Penfield tried to market the new grommets by utilizing traveling salesmen who brought and sold on consignment and kept most of the profits. After this unsuccessful period, Eldridge Penfield sold out his interest to Ira Penfield, and Wilcox invested his savings and became a partner in the new firm called Penfield & Wilcox.
By using more direct marketing techniques, Wilcox was able to overcome the opposition that developed on the part of journeymen sailmakers who feared that the use of the new grommet would reduce the need for their services. The company prospered and added other items to their inventory based on the needs of sailmakers. In 1857, Wilcox invented and patented a new and improved grommet made in three parts which was even more successful than the original device. He also invented a round-edged sail thimble which replaced the iron, sharp-edged thimble previously in use.
The partnership of Penfield & Wilcox was dissolved circa 1859, when Ira Penfield retired. Wilcox moved the business and took into partnership Joseph Hall, Jr. of Portland, CT and formed the firm of Wilcox & Hall, which continued until 1867 when Hall retired and sold his interest to Wilcox.
In 1869, Wilcox formed a partnership with three of the younger men of his organization, Albert R. Crittenden, E. Bound Chaffee, and Homer Churchill. Crittenden purchased a tenth interest in the business for $5,000, and name of the firm was changed to Wilcox, Crittenden & Company.
In the maritime world, steam was gradually replacing sail, and the company's 1870 catalog offered such varying products as shackles, thimbles, ring bolts,
"Ereful whistles," engine-room signals, boat nails "of good Swede's steel heavily galvanized," and cotton hooks "New Orleans pattern." A new outlet for sailmakers was in manufacturing awnings and the company began stocking awning hardware as well.
In 1883, Wilcox developed an improved brass grommet (which became known as the spur grommet), secured its approval as standard equipment by the British Admiralty, and eventually it was adopted by all the leading navies of the world.
By the late 1880's, Wilcox, Crittenden & Company had become the
largest manufacturers of marine hardware with the most diversified line in the United States.
The company survived a fire in 1907 which destroyed a large portion of the plant. They maintained during the World Wars and the Depression and by 1961, Wilcox, Crittenden & Co., Inc. was a division of North & Judd Manufacturing Co. By 1971 it was a Gulf + Western Precision Engineering Company, and by 1975, a division of Gulf + Western Manufacturing Company."



Perco Philadelphia made fog horn with wooden mouthpiece.



Tin horn reed whistle with Lindberg flight, spirit of St. Louis,
Sold as a souvenier.

Haloween reed horns & whistles was one of the most popular noise makers for children and parties.
For generations.
I shall bring a photo of an early 1840's one soon.
But there hundreds of variations and I felt it may be a material fit for another long article.

France

Antique 19th century hunting reed horn


Horn made horn shape reed whistle, call


---
Obviously when categorizing whistles I devide into horn Shape and Horn the material though they both spring from the same source, I recall that as a boy I took a school trip to the Carmel mountains and found a Ram's horn i worked for hours and made it into a real shofar, took me few hours to learn how to blow so soun comes out, I still have it stashed away somewhere , it looks a bit like this simple Ram's horn Shofar. I found searching for a shofar photo in the internet.




Ancient Horns
After writing I started looking for websites about Horns
here are a few I found and plan to read.

The Golden Horns of Gallehus (DR 12 †U) were two horns made of gold, one shorter than the other, discovered in Gallehus, north of Tønder in South Jutland, Denmark. The longer horn of the two was found in 1639, and the second in 1734,
15-20 meters apart from the first discovery. The horns are believed to have dated to the fifth century and depict mythological figures of uncertain origin. The smaller of the two bore a Proto-Norse Elder Futhark inscription.
The original horns were stolen and melted down. However, copies based on illustrations of the original horns were produced and are exhibited at the National Museum of Denmark, Copenhagen, Denmark and the Moesgaard Museum, near Aarhus, Denmark. Since then, copies of the horns have been stolen (and retrieved) twice.

Bronze age horns:
The tradition of cast bronze horns developed in Ireland in the Bronze Age. They are masterpieces of early metalwork although much of their casting methods remain speculation. Holger has been working with the experimental archæology project Umha Aois since 2008 to resolve many of their mysteries.
http://www.holgerlonze.com/lbahorns.shtml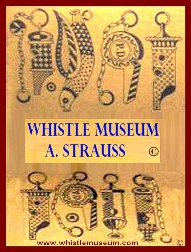 Whistle museum, A.Strauss All rights reserved, please do not use any part of this web page without a written permission from the author


Trackbacks