Ludwig & Ludwig Co. History Whistles & Sound Effects. A.Strauss
underconsrtuction
The whistle side of the great drum company , History & Whistles.
see catalog exerpts for models and describtion.
Ludwig Co. Timeline

1909
William F Ludwig
Sr,and his brother Theobold Ludwig open the Company in Chicago.
1918
a catalog including sound effects and whistles appears.
by the 1920's the Ludwig Drum Company had became the world's largest drum manufacturing company
1924
A catalog including over 20 whistles appears.
1929
The company is sold to C G Conn
1937
William Starts his own company as Ludwig but changes the name to W.F.L
(His intials) in 1939.
1951
Conn owns Both the old name Ludwig & Ludwig and Leedy *( another drum an imprtant old American company Drums Percussion sound effects and whistles as well by his own right) and combines the two into Ludwig & Leedy
1955
W. F Ludwig WFL purchased their name back and starts as Ludwig Drum Co.
March 11th ,
1981
Ludwig industries is sold to Selmer.
Having skilled workers in metal wood and leather Ludwig were able to make great wood whistles as well, in fact some of the best at that time.
Since the role of making sound effects in theater music and in silent movies Pre T.V. was the drummers role since late 19th century it was only natural for Ludwig as well as Leedy * who were drum makers to make great whistles and professional effects.
Another co. that was makink effects was Yerkers MFG. Co that published a sound effect catalog in 1910,
Here is a magnificent wood whistle the "Four in one" :

The whistle appears in the early Ludwig catalogs , Each of the three tones has a movable slide that allows the drummer to change each of the tones to the desired pitch, In addition, each tone can be opened or closed
by using a metal lever for each tone near the mouthpiece In this way the drummer can achieve the following four effects:
1 - Three tones for a steamboat
2 - The deep and medium tones for a tug-boat
3 - The medium and high tones for a railroad whistle
4 - The high tone alone along with the open hole for a cuckoo
when the tunable plungers are tight and there is no air leakage it has strong and clear tone for each of the four effects.
The metal stops slide is to block off or open each of the tones.
The early Ludwig logo appears near the mouthpiece.
Dimensions are; Length (not including plungers) 15" ,
Width is 3 3/4".
-

1924 catalog cover.

William F Ludwig Sr. Born in Germany in 1879 Bill Ludwig moved to Chicago as a child in 1887. Ludwig abandoned the violin and piano to focus on drums. He played professionally at an early age and soon realized existing bass drum pedals were inadequate so In 1909 he and his brother Theobald (also a drummer) invented an improved bass drum pedal. The new design utilized a spring to keep the beater off
of the drum enabling the drummer to create a faster tempo.
Sales took off and the brothers formed Ludwig and Ludwig to market the new pedal design. Bill continued to travel and play professionally selling pedals when ever possible. Their first drum was actually Tympani which utilized Ludwig designed foot pedals. Theobald Ludwig died in 1918
Bill to dedicate himself to Ludwig full time and Ludwig and Ludwig prospered until the depression when they ran into financial problems causing Bill to sell the business to GC Conn manufacturing of Elkhart Indiana.
Ludwig remained an employee however he left after GC Conn broke a promise to leave manufacturing in Chicago.
A lack of innovation and poor management by GC Conn relegated Ludwig and Ludwig to a second tier drum manufacturer.
Meanwhile in 1937 Bill Ludwig reentered the drum business and started the William F Ludwig drum company. GC Conn threatened to sue Ludwig over the name so Ludwig soon changed his new company's name to WFL (William F Ludwig Drum Company). Once again innovation launched Ludwig to the forefront of American drums. A Ludwig employee designed a new bass drum pedal dubbed the "speed king". Additional innovations followed in lug design and materials. Through hard work and perseverance WFL continued to prosper and in 1955 purchased the Ludwig and Ludwig name, assets and patents from floundering GC Conn Manufacturing allowing Ludwig to change the name to Ludwig Drum Company. After continued additional purchases Ludwig reamed the company Ludwig Industries.
Ludwig prospered during the 60's due to Ringo Starr's use of a Ludwig Oyster Black Pearl set. The Selmer Company purchased The Ludwig Drum Company in 1981. Ludwig still builds many products in the U.S. however manufacturing has moved from Chicago to North Carolina. Recently Ludwig has enjoyed increasing popularity, a trend we expect to continue

William F. Ludwig Jr ( 1916 - 2008) in Chicago, Illinois, to William Ludwig, Sr. and Elsa Maria Gunkler. William Jr. played percussion throughout his grade school years and at the age of 16 won the National Solo Drum Competition. After graduating from Park-River Forest High School in Oak Park, Illinois, he went on to attend the University of Illinois. There he enrolled in the School of Business Economics and served as solo timpanist with the University of Illinois Concert Band as well as playing drums on weekends making $ 4.00 a night.
Around 1937, just eight years after the Ludwig & Ludwig Drum Company had been sold to Conn, William Ludwig, Jr. co-founded, along with his father Ludwig Sr., the W.F.L. Drum Company in Chicago. William Jr. became the Sales and Advertising manager for the W.F.L. Drum Company, designing his first Ludwig catalog in 1939 known as "Big Red" because it had a red cover. His second catalog was the 1940 catalog with a green cover. Both had Ray Bauduc of Dixieland fame on the cover.
In May of 1942, Ludwig Jr. was drafted into the Navy and went to the Great Lakes Naval Training Station in North Chicago. He was welcomed by an old Ludwig & Ludwig banjo artist, Lt. Eddie Peabody. PeabodyPeabody utilized Ludwig's skill to train drummers in the art of military drumming. Thousands of soldiers, in 12 drum corps, learned to march to the beat of drummers trained by Ludwig, who reached the rank of Chief Petty Officer. had been chastised by an Admiral for the poor marching habits of their recruits. For the next three years,
After completing his service in 1945, Ludwig Jr. returned to WFL Drum Company. He designed the 1947 WFL drum catalog which contained the new Classic line of lug casings and had a picture of Buddy Rich on the front cover.
In 1955 Conn exited the drum business and sold the Ludwig name back to the Ludwig family. Under William junior's guidance, the Ludwig Drum Company once again became the world's largest drum company.
A milestone in the company history came in 1964 when the Beatles appeared on the Ed Sullivan Show with Ludwig drums. The resulting demand for Ludwig drums forced the family to add a night shift at the manufacturing plant.
In 1970, William F. Ludwig II became President of the Ludwig Drum Company. The 1980 Ludwig catalog was the last Ludwig catalog written by Mr. Ludwig.
Ludwig Industries was sold to Selmer in 1981 and manufacturing was moved three years later to Monroe, North Carolina. Wm. F. Ludwig II worked as a consultant for the firm, and in his retirement spent more time perfecting his lecture/demonstration "A History of Drumming in America". The presentation included a demonstration of the sound effect devices used by theater drummers … and in his demo, Ludwig II utilized the effects actually used in theater drumming by his father, Ludwig Senior. In recognition of his educational efforts and general contributions to the arts, Capital University in 1987 awarded Ludwig an honorary Doctorate of Humanities degree.
In his retirement, Ludwig demonstrated how integral a part of the percussion world he really was. He auditioned annually for the Wheaton Community Orchestra, earning the tympani chair year after year and played timpani at his church each Easter Sunday.
Though he no longer had a vested interest in the drum company, Ludwig for decades acted as a goodwill ambassador. He appeared regularly at major industry events such as the Chicago Drum Show and Percussive Arts Society conventions. In 1993 PAS inducted him to the Percussive Arts Society Hall of Fame. His father was already a member, having been inducted in 1972. Other than the Zildjian, they are the only father-son members of this elite group.
In 2001, Ludwig penned his autobiography, The Making Of A Drum Company, published by Rebeats Publications. He produced the first drafts of his book using the manual typewriter he'd used for his correspondence for over 50 years.
On March 22, 2008, at the age of 91, William F. Ludwig II died in Chicago of natural causes. He is survived by his son William F. Ludwig III of Chicago and daughter Brooke Crowden of Irving, TX.
William F. Ludwig II was recognized as a leading authority in the manufacturing of all types of percussion instruments. A guardian of the Ludwig family heritage, William F. Ludwig II had an extensive museum of early drums dating from the Revolutionary War, plus collected and cataloged every American drum and accessory patent ever issued by the United States Patent Office, beginning with the Zimmerman percussion patent of 1858.




1928 Tripple pipe, a three pipe whistle with inline mouthpiece and a superb sound
The v shows the opening of the moputhpiece , mouthpiece . Rare and sought after by collectors.
-
The Cyclone siren whistle 'Wind Whistle' it was made with a brass horn megaphone style as well. 1924 Cat.
-



Ludwig's slide whistle "song whistle" in the catalog, at the top picture you can see the later model # 971 The Frisco song whistle.



This is the smaller model of Ludwig's warblers and has no metal cap - cover. 1920's.



Model 522, 1926




Ludwig Model # 511, warbler , water whistle, bird immitation call there are few more stamped variations and constructionvariations. Early 1910's had the stamp on top.


1926 catalog with a drawing of the old model . ( note straight pipe cover).



The early model c 1910 has a straight cap and the the samp Ludwig & Ludwig apears in a semi circle around the screw ion water plug.
A later stamp.



Metal Reed whistles models 300 to 504 from Ludwig & ludwig 1924 catalog, Nickel Plated brass and great sound. see actual whistles in the first photo here, excluding model 500 which I should up load a large three parts whistle.
All These models of reed whistles have a great sound quality, and prove to be very durable I have been using some for years and they keep their loud clear tone.


One of our readers just sent a Video he made on you tube and I bring it here , THANKS !!!



To be cont.

. * ( an article about this drum whistle and sound effects maker is to be published soon)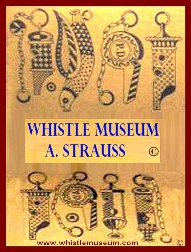 Whistle museum, A.Strauss All rights reserved, please do not use any part of this web page without a written permission from the author

Trackbacks