Rare American Round Whistle w. Stop Hole
A Look at a uniquely designed American Round Whistle W Stop Hole.
A. Strauss
This old whistle looks as If the maker wanted to design a whistle that is all original and has every single part different than other whistles or standard.
still keeping a very clean simple outline and emphasis on being strong and functional.
-
Measurments L 65.44 mm
Width,; 16;04 mm
Body Length; 56;4 mm
Fipple is about 31 mm of body length .
So the first thing that strikes one is the proportions, The long fipple is longer than half the body length .
It is a very heavy whistle. probably made of steel it has copper plating on the whistle's body and nickel silver plating on the fipple which is made of brass .
I recalled that in high quality swords and blades it was first copper plated and then plated again with nickel silver on the copper plating, because electro plating on steel does not hold too well , ( Take a look sometimes at old DeCourcy and Hudson's plated steel whistles)
Pitch
: Notes are
E
, when stopped and
D
opened stop hole a whole tone interval. It has a very very loud effective sound.
The window shape, has a domed shape on the lower "window sill" which is very rare.
The
U
Loop is heavy and made of Geramn silver - Nickel silver. Simple strong and functional.
The Diaphragm
-
is A none - disk one,it was made without saving work and it is curved parallel to the whistles body and ends straight .
It is not lined with the window shape.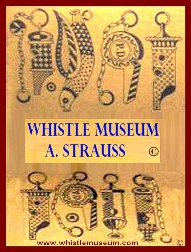 Whistle museum, A.Strauss All rights reserved
, please do not use any part of this web page without a written permission from the author
Trackbacks