The Pea in the Whistle. A. Strauss
Peas History & Dating Whistles. A.Strauss


Stevens & Son. 1860's

Peas* in whistles
are something that some collectors may over look, but the pea in a whistle can tell us many things, and deserves special attention at times,
Peas are used in 2 main types of classic 19th century whistles.
Escargot -Referee, Round Pea whistles including combination whistles,
and the third type being a much less used whistle; the Two Chamber type.
In the 20th century few more types were using Peas
Tin Lytho whistles with deep chamber ( mainly from Japan)
and Bakelite and Plastic whistles of various shapes but again mostly
Escargot-referee type and Round Pea whistles. as well as other as Brazilian Samba whistles and Bird calls.
When looking at Peas it is important to note the
Shape, Color, Texture, Patina, &
Material
..
The movement of the pea is what produces the whistle's trill.
Its absency in button whistles and in others calls verification as peas are very difficult to fake and can be used to authenticate period made.
So I share with you some conclusions examples and observations.
Peas absorb moisture and dust some stick inside the air chamber or at the window.
Rough cut Chunky cork. J, Hudson 1870's
Below another assimetrical shape of a post 1876 Dixon & Sons an asimmetrycal ball shaped cork pea.
Dixon & Sons, Yates, Stevens, and other early makers solved the problem by having a screw top that enabeled choosing the right size pea by trial, sizing it to the best trill sound and replacing it when needed.
A cork pea can be easily be pushed in through the whistle's window but hard to take out once its in.
Peas have four periods as in round pea whistles (that is a Paper to be posted soon)
Dried up Seeds
( especially in whistles as the two chamber type which used dried up seeds and in antique silver whistles or whistles with a very small sound chamber)
Cork Peas

Ooops what is cork ?
Cork is from a harvested from the bark of a tree,
Cork Oak (Quercus suber)

Just ­about every tree has an outer layer of cork bark, but the
cork oak
is the primary source of most cork products in the world, including wine bottle stoppers. These trees primarily grow in countries that run along the coast of the Mediterranean Sea, where there's plenty of sunshine, low rainfall and high humidity. The countries that produce the most cork include Portugal, Algeria, Spain, Morocco, France, Italy and Tunisia.
The lightweight elastic outer bark of the cork oak, used especially for bottle closures, insulation, floats, and crafts.
balls in whistles, centers of many sporting good balls (ie: baseballs, cricket, hurling) original and replacement "foosballs" arts and crafts for children (glue, paint & decorate) games and toy parts, fishing floats and lures, scientific use and experiments, magic props, architectural use, buoyancy aids, floats for level gauges set décor for motion pictures &TV practice golf balls, outrigger cork stops and more.
And back to whistles. Here is what I call a Prongled Pea, c 1860's 70's in a T Yates whistle. Back in the times were cork peas were not available as in Fig.X whistle makers had to make their own 'Peas' so small pieces of wood were drilled then put on a prong**, a metal rod that turned and then by hand make a ball shape.
The peas when round enough were taken off the prong and put inside the whistle.
-
Prongled* Pea in a Thomas Yates Round pea whistle with revolved mouthpiece.
1870's
we should remember that these were made of hard wood which was not as flexible as
elastic -soft- supple, as cork and had to be put in the whistle before it was a finished product.
Prongled Pea made of light wood , france whistle c. 1890's
The peas in the two examples above are larger then window opening .So the whistle's window size dictated a pea that is larger .
But how to have a large window and a small pea ?
The solution was a 'PIP' at the window or a bar (split window)
Here are examples , upper pips and split windows are rarer and the pip at the lower 'window sill' was the common one especially in French made whistles. It can in most cases be an identification mark hintig at France as where made.
Up load Photos of Screw tops, Dixon pip at diaphragm and other bars, American whistles Pignose MP
Another early device probably from the 1860s was the two hole mouthpiece I refer to as Pignose whistle, that was intended to prevent the pea from getting 'stuck' in the window. having two air streams hitting the pea.
Above a split, two hole 'pignose' fipple and mouthpiece.
J. Hudson & Co. (Acme Whistles) 1891 Pat. # 19868 3 Piece & knop Glasgow Escargot.
A staffordshire button whistle made of Nickel Silver, most Nickel Silver whistles were made for military and rarely for police at that period.
1891 Pat. # 19868 , valid for 14 years 1891 to 1905
Peas are hard to fake,
many escargots whistles miss the pea, one of the tests for button whistles can be the pea if it there and genuine, it can help to autenticate, since many of the old button whistles can be fakes.
This whistle has a clean pea, of Modern FILLED CORK , a process whereby the surface pit and grain marks are filled to give a more pleasing appearance.
So it is refurbished It can not be polished or filled after production.
'Filled Peas'and were made since about 1995, the pea is just pushed in .
I sould thank Mr. Simon Topman Chairman of Acme whistles Ltd. for the last paragraph helping to verify the whistle authencity and remarking on the pea years ago.
Here are few words about peas From the Acme whistles LTD website "Matching the correct size of pea to the size of whistle is critical to good performance.
A pea of the correct size & weight should travel at 800 metres per hour inside the sound chamber to create the perfect trill. Too slow and the sound is notchy or lumpy, too fast and it is tizzy.There can be no excuse for making a whistle that is hard to blow or even worse, where the pea sticks. These are all common faults in inferior whistles that aren't backed up by the Acme know how."
Fig, x
Modern cork peas made in the far east in various sizes and in lots of 50
9/16 th inch size, sold today.
Cork whistles gain a certain patina
they can be polished and waxed or filled (Since mid 1990's)
I ussually hold the whistle in a semi closed position and listen to the sound it makes when rattled , Large old Pease in round whistle and escargots
and in older tin litho with a wider chamber (Pre warJapan) have a distinct sound.
Here are some U.S.A Peas
D & M sporting goods.
-
Later mass - line production where cut from a rod either cylindrical or square
and have a longer shape.
Austrian made whistle



On very rare occasions the pea may have an ornament or stamp
here is a beautiful one. I believe the collector never noticed . Depicting a bird.
Silver and gold escargot from the UK with a bird embossed on the Pea. c 1950's,


http://www.homebrewit.com/wine-making-cork-supplies.php
-


---
Some quotes and footnotes
* (article still underconstruction)
more:


A separate machine sands the whistle for plating. Contrary to popular belief, whistles are not made of steel but are plated with chrome or nickel. The pea whistle is the most common type sold today, so called because it contains a small cork ball which produces the whistle's characteristic trill. After plating, a machine compresses the "pea" (if the whistle is to have one) and expels it into air hole. The pea later expands, which holds it in place. The manufacturer adds a metal ring to the back of the whistle and packages it for sale.

Variations, Some manufacturers make peas from synthetic cork that does not absorb moisture and stick inside the air chamber. The movement of the pea is what produces the whistle's trill. Though brass is the preferred material for whistles, manufacturers sometimes use plastic although it does not resonate as well. Plastic whistles are assembled with glue or by ultrasound as opposed to hot metal.



www.ehow.com http:>Read">www.ehow.com/about_6300017_whistles-made_.html#ixzz1jjBGsQrd">Read more:

wood turnning



** Middle English pronge, pointed instrument, pain, from Medieval Latin pronga, of Germanic origin.]

prong (prông, pr ng)

n.

1. A thin, pointed, projecting part: a pitchfork with four prongs.

2. A branch; a fork: the two prongs of a river.

tr.v. pronged, prong·ing, prongs

To pierce with or as if with a thin, pointed, projecting part.




Read more: Famous Whistles | eHow.com http://www.ehow.com/info_8441149_famous-whistles.html#ixzz1jjCGYRLF

http://alumni.umassband.com/people/2000/03/the-question-is-the-pea-to-have-or-have-not/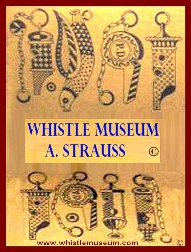 Whistle museum, A.Strauss All rights reserved, please do not use any part of this web page without a written permission from the author

(Internal notes Cut , Prongled , Rounded, Ready made peas .
Buying peas. Wood Peas HIDDEN early when did
What types Metal Peas very early mid Third period second were prongled This mean a hole was drilled in a square or semi round cut pea and put on a thin rod so it could turn and smoothed evenly to shape as a semi perfect ball, balled from a dice shape or dice with cut corners from all directions Brazilian early Samba whistles, short railway
French whistles used "Prongled Peas" I had to make up the terms
Silicone Peas Polimeric Peas to be cont....

Trackbacks