Black & Co. Whistle Manufacturer, History & Examples. The Glasgow Maker & McPherson Bros. A.Strauss
Black & Co. Whistle Manufacturer, History & Examples. The Glasgow Maker, Early London* type whistles, The McPherson Brothers, Glasgow Whistle Retailers and More.
By A.Strauss
Fig.1
The whistle is Stamped under beak** McPherson Bros. Makers 156 Argyle St. Glasgow made 1880's 90's Cape Goverment Railway with a Military crow foot mark.
As other whistles made by Black & Co.
Fig.1a
only one known to exist.
Black & Co.
Manufactured Escargot type whistles from an unknown date probably in the 1880's until 1898 when the were sold to to J, Hudson and company. They were zinc and tin workers and making other products as well as packaging cases
McPherson Brothers were their main outlet for selling whistles and they supplied whistles to railway companies as did McPherson Bros. which were probably the largest retailer in Glasgow .
Address
Frederick St*.
Black & Co Did not make any known Glasgow type escargots see my article about
Early Glasgow type escargot whistles
& Makers . Only London type escargots.
Black & Co. whistles are all rare and none are stamped Black & Co.
Whistles made for McPherson Bros prior to 1898 were made by Black & Co and later by J. Hudson who purchaced Black & Co. whistle making buisness in 1898
and kept making their models.
5 of Black and co. 50 mm model the one on the right made by Hudson.
Black & Co. The Thunderer in rectangular frame below window
the whistles are charcterized by large windows large peas and short Beaks. .
The rectangular shaped window with the wording=stamp ' The Thunderer' was used only by Black & Co and Hudson as far as I recall.
Beak* Length 18.3 mm
Three size Models by Black & Co.
The tiny one stamped Paisley Glasgow measures
43mm
and has a monsterous sound and volume. next Model is
47mm
and the one on the right
50mm

this does not include diviations in a fraction of one milimmeter since these are hand made.
Smaller and large models.
A very early Thunderer 48 mm attributed to Black & Co.
Black & Co made some Button whistles and Coin button whistles.

McPherson Bros.
Addresses
156 Argyle St.
(Pre 1898)
78 Argyle St.
21 Queen St.
156 Argyle St.The Thunderer by Black & Co
A Black & Co Model made by J Hudson, note the bubble knop top.
Note that McPerson though not a Maker appears in makers list because of his
stamps as maker and because of his important roll as far as we know they never made whistles.
It should be mentioned that when it came to police whistles Glasgow police and the area , Greenock police, and Killmanrock police did not order the standart two notes cylindrical whistles (GSW's) but used a variety of other whistles, round pea whistles, and Escargot whistles ,
Thus the Glasgow police area is one of the very few or the only one using Escargot whistles from the mentioned forces made by Hudson for these three forces, some Pre 1905.all 'Glasgow Type' escargots.
Glasgow city police
Greenock
Kilmanrock

Here is a Glasgow Police Button whistle made by Black & Co. 1880's or early 1890's
Length 47 mm
Below Coin whistle
whistles I identified as made by Black & Co . Lentgh 47 mm 48 mm
Glasgow names that reapear with Glasgow whistles either as makers or distributors.
A.Marshall
J. Brown
Lekie Graham
McPherson
Burnley
Paisley
McFarlain
Christie
J G Reid
MakersBlack & Co.
Samuel Auld
Peter McDonalds
J Stevens & Sons

The Thunderer Patent made by Hudson for McPerson
78 Argyle St The Thunderer Patent
The left one has a
Rectangular Overlabel stamped
'The Glasgow Thunderer' as the stamp on the one on the right , so it may had been made by Black Co check Knop it also has an oval groove as if ready for a humpback cap.
and Ltd. instead of street number. the other two have 76 Argyle st. this was done prior to the company having their new adress stamp : 31 Queen St.
All are Glasgow type escargots; note the various tops, bubbles*, knops.
31 Queen St The Glasgow Thunderer From 1899 McPherson are selling Hudson made whistles note round bubble knop design with base.
The stamps appear in a rectangular frame either as The Thunderer Patent or
The Glasgow Thunderer
For another large Glasgow whistle retailer J Brown Hudson made a models stamped the officer's call, with many variations.
The Glasgow Thunderer stamp appears on whistles made for A.Marshall by Hudson prior to 1905.
To be cont
* London type escargot whistle are characterizes by a thin 'beak'
** Beak is a term I coined for the part which is the mouthpiece in escargot whistles.
* Bubble top - is a term I coined and use for what is reffered to as round spherical knops.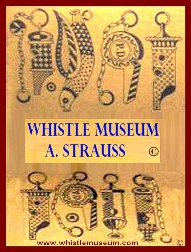 Whistle museum, A.Strauss original research, All rights reserved
, please do not use any part of this web page without a written permission from the author.
Trackbacks