James Dixon & Sons Whistle & Carriage Key. A. Strauss
J. Dixon & Sons Very Rare Combination Whistle.
-
James Dixon made whistles of outstanding quality , this one has the unique window design (Fig.2) I first found on a round pea whistle with screw top few years ago, along with the cocao wood fipple cut diagonally at its end (Fig,3), both can be used as identifying features for dixon, (with the exeption of few G & J. W. Hawksley whistles) , To see James Dixon History see previews article
here
. I estimate this one was made 1850's to 60's.
See other carriage Key combination by T, Yates
here
and another by Buch with extened note about Railway Key or Latch -Key
here
.
The whistle measures are L; 107.88 mm Width 16.1mm and a bit less app. 15.9 in height.
The carriage Key assuming it is a carriage key is unique , while carriage keys with whistles are usually symmetrical , this one is very different; app 13 mm wide at the widest point (Fig 5), and the flat side just 4.6 mm thick with sharp edges.
in its end. and has a flat shape from side view (Fig.1) and a conical shape (Fig,5)
in its wide part.
The Key is made of Steel and folds in and out with a two steel straps spring mechanism.
Whistle and open case are made from German silver and the whisttle it self is about 30 mm deep. Pea is Cork oak ball, shaped to an asimmetric shape ball, and is pitched to C when blown softly and D note when blown with full power.
Very Rare, One known to exist.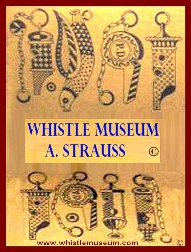 Whistle museum, A.Strauss All rights reserved
, please do not use any part of this web page without a written permission from the author.
Trackbacks