W. Dowler & Sons,Victorian Police and Military Whistles. A.Strauss
See W. Dowler History in a Previous Article
Here.

Undercontruction notes and Photos to be added. (over 30)
Reg. Design 225730 of 1894 Durham City Police, Crest Top beaufort whistle.
-
Swansea Police Porteous top whistle.
-
Coventry Police Beaufort with spherical top.and revolved mouthpiece.
L. 74.5 mm
The stamp W.Dowler is probably earlier then the stamp W.Dowler and sons.
The date the addition of Sons is not clear but my guess for now is late 1880's to early 1890's. Knowing the exact year would make it easier to date some whistles.
Wakefield City Police.
The next photo shows the stamp on the back of this whistle.
Dowler's GSW's are tuned- pitched differently then Hudson's (B & C#)
Dowler's early GSW's are tuned a minor third apart A and C notes, it is interesting that some have three notes two notes in one window an over tone a rare exeption or intentended, I still have to figure this out.
The earlier Police whistles as the manchester Police whistle above did not carry Dowler's stamp on the back
But are easily identified by his unique longish loop style and the very applish mouthpiece.
other features as milling to the mouthpiece, and squat top as in the next Bristol Constabulary B 48 can be used as identifying features..
-
Below a group of 5 Dowler's police whistles,
Edinbnurgh Police
Derby Borough Police
Manchesrer PoliceD122
Wakefield City Police
Manchester Police Superintendent
-
The one in the center is all brass with Nickel Silver top. It would be interesting to find out the highest numbers and lowest numbers on police whistles as Manchester and Bristol that were numbered as well as the Herford.
may be some collectors can contribute in a comment if they happen to have one I will look for this number variations and update. .
|
|
Left. A spherical top Beaufort stamped Hiat.Hiatt & Co. 26 Masshouse lane , Birmingham, established 1780 were famous manufacturers & suppliers of Police equipment.
Right ; Wrcester County Council, W.C.C. with heavy wire ring toothgrip .
Maidstone Police , Porteous top whistle, note Dowler tariditianally had his stamps "upside down" facing top unlike other manufacturers. who stamped in direction of window and mouthpiece
-
See full article about tha whistle
here.
-
-
Dowler made whistles for many Police forces exept for the Metroplitan Police.
The International Police Whistle was a brand name of Dowler and used on Cheaper Models.
Dowler made many different stamps, some along the body , some in between windows and some above. According to Directories of button whistle makers, Dowler address was Changed at 1898 and up 1897 he was at 94 Gt Charles St.
at 1988 he is already listed at Graham St.
It seems that Hudson started making whistles for Dowler C. 1907 and De Courcy at an earlier period.
W. Dowler & Sons stamped whistles are either genuine Dowler's or De Courcy's or Hudson's some of this whistle variations can be quite puzzling and difficult to attribute by looking at pictures.
Top one is a genuine W. Dowler & Sons made , the other made J. Hudson & Co. for Dowler, The Dowler mouthpiece has a longish contour that is distinct.
Left J. Hudson & Sons made for Dowler 1907 -1911,
thin loop & Hudson stamped diaphragm.
The right side one is A. De Courcy made for W Dowler & Sons,
using diaphragm & partition Pat. 3725/1906.
List of Police stamps on Dowler's whistles (Partial)


Bradford
Brighton
Bristol (Numbered)
Cambridge Borough
Chesterfield Police
Coventry Police
Devon
Derby
Durham
Edinburgh
Herford (Numbered)
Hove
Huddersfield borough
Kent
Leeds
Liverpool
Liecester
Manchester (Numbered)*
Maidstone
Swansea
Salford
Wakefield
West Riding Constabulary Yorkshire
Worcester
* Manchester Police appears with additional stamps as; Inspector, Superintendent or Police Sargent as well ( all numbered)
To be cont.
-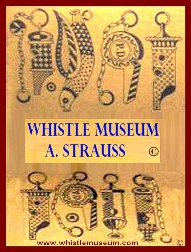 Whistle museum, A.Strauss
All rights reserved, please do not use any part of this web page without a written permission from the author.
Trackbacks