Aviation History, whistles.
Aviation and space theme whistles.
A. Strauss
More pohotos text , comments and Time Line to be added. under construction
-
If I was to bring all whistles connected to the theme
Aviation
& Space and include Airforce related there would be many thousands, I will start with some . later I will add Balloons and others.
Top left a J Hudson whistle from 1900 stamped 1940 with added cast brass parts.
The pea clearly shows it was made pre 1940.
There is another one, a button whistle sample
here
.
Top right an early tin litho whistle made in Japan c 1920's.
See link to a reccomended website about the
History of aviat
ion and time Line.
Balloons
Airships
, Dirigible, Blimp
1925
-
.
From Brockhaus-Efron Aeronavtika
German Paper Mache Reed Whistle
-
A Hot air balloon , cast figural whistle, France late 19th century montgolfier bros. model appeared on various whistles wood paper and others.
Length : 69.1 mm
Tin Litho Airplain figural whistle embossed Japan on back, 1920's.to early 30's.
See a previous article related to Zeppelin and other Airship related whistles
here
.
A British dated 1917
Royal Air force
(RAF) whistle, the date is a year earlier than
the 1918 the date the force was formed.
The button strap shown is typical to air force whistles which were worn on a button. other forces as far as I know used lanyards and hooks as far as I know.
-
German Luftwaffe whistle with an eagle carrying a swastica symbol, earsed here by a white square. 1940's.
1953 Rocket shaped whistle.
1959 Tiny Plastic Cracker Jack Premiums Reed whistle with plastic reed. ,
RX- 58 space veichle shaped figural whistle Patent pending Japan 1960's
The same diecut shape appears with different colors and variations
Jet Plane
Underconstruction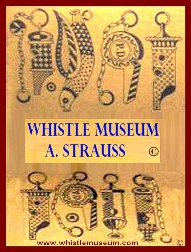 Whistle museum, A.Strauss
All rights reserved, please do not use any part of this web page without a written permission from the author.
Trackbacks