Lee Union - Alls Jeans Cardboard Ad Whistle Patent.
Textile and whistles go together not just becuase the word whistles is synonymous for woman's dress and for the sound but Because of fire whistles and fireman whistles handed to workers in large factories were fire was the main threat and hazard during the 19th and early 20th century .
88.51 mm x 52.47 mm The Cardboard has four sides.
but advertising clothing and shoes with cardboard whistles and other advertising whistles mostly wood with printed paper ad applied, was one of the venues
If I classify my cardboards according to themes Textile related C.B.W. would take an important place.
All the cardboard whistles incorporating a metal piece are very rare.
This one has "Patent Applied" embossed on the aluminum part. that was made to creat a space betwween the pages when folded.
It is Stamped with violet colored ink A. M .Farwell Crank invent. N.Y.
I would imagine he was the Patentee and this is a sample.
AS of now I was not able to find more details about the man.
-
.
Indian dotted stifel Jeans. Blue Trim. Drop seat,. Combination collar. -ages 1 to 8.
Lee Union - Alls quality Wins.
Two Pieces Suit. Fine Count olive Drab Jeans, Wide Legs, Full Belt. Ages two to seven.
More about Cardboard whistles in Previous articles
here. (11 articles)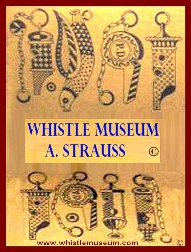 Whistle museum, A.Strauss
All rights reserved, /2009/03/22 please do not use any part of this web page without a written permission from the author.
Trackbacks