One Of A Kind Whistle, Just One Known to Exist , German Silver and Tortoise Shell.
Whistle in closed position.
Length; 60. 24 mm
Width: 18. 27 mm
Period: Victorian times.
Looking at that whistle, certainly made me think, upon observing the whistle few points striked me as it was the first time I saw one like this, with so many unique features, of design, Construction, Materials, Function and a riddle for dating.
so I will share my thoughts.
I was wondering about the date and the material I could not figure out wether the 'Beak' mouth-piece was made of Horn, Bakelite, early Plastic, it striked me that it was made earlier made then plastic use with variegated plastic,
suddenly I remembered how difficult it was to tell early Plastic guitar picks that were imitations of picks made of
sea tortoise shell
and figured what it was, Hawksbill
tortoise shell
was used in the19th century for various and earlier for a variety of items.
A Tortoise shell box, c. 1840-50.
Tortoise sell Guitar Picks fron the Guitar Picks Quarterly
"There is no better tone … nothing makes for a finer pick."
"It's illegal to own them!"
"You can own them … you just can't import or export them. You can't even ship them across state lines."
"It's not illegal to own or sell them, if it was produced before the ban in 1973."
A personal link to A.Strauss Guitar playing
The whistle in open position
The metal part, all German silver, is constructed of two sides and of about six more metal pieces that are constructed put together in a way which would be too complicated to verbalize here. all together about 9 Pieces - parts and pea.
It is rare to see a whistle made of two different materials; combining an organic material and metal, it is rare to see a whistle that has a design and shape that we do not recognize, Obviously the general look is of an Escargot type; a Beak, and a round Chamber, still it has an none familiar shape and construction and and elements I had never seen with this shape; the flag - flap which opens and closes up on the window, that apears on marine comunication tube whistles.
The finder of the whistle wrote :
" I assum that this unusuall whistle would have been a type of speaking tube whistle , on top of the whistle [ a window cover, but then there is a tooth grip to the mouth-piece. A.S.]
a little Flag Flap when blown it flips open alerting who ever have been at the end to see that some one was trying to contact if you have another explanation"
Once Blown the window cover opens up, the window cover rotates on a hinge, and has no spring to put it back to a closed position, only if held in 90 degrees or diagonally in a none Horizontal position it returns to closed postion when not blown.
If it was pat of a speaking tube, (These never had a Pea) so there may had been a part that the whistle would go into like a base in the end of a speaking tube
On the other end it does have a tooth grip which is used in mouth held whistles
and it has teeth marks since it was obviously used.
SO it was defianetly a mouth blown whistle.
May be with a double function.
Since most mouth whistles and comunication tube whistles have a loop either to hang or tied to the end of a speaking tube, this one does not have one.
It is designed to be hand held, Speaking tube Comunication whistles are not made to be mouth held.
So there is a contradiction if this whistle had two functions it would explain that.
Another idea was that the whistle was to be used in rainey weather ande the window cover was used to prevent the whistle from getting soaked wet, and chamber getting filled with water which would make the whistle stop working.
So it may be a whistle for a rainey day . (pun intended)
The Beak and Pignose Mouth-piece.
The "Beak" is of a very unusual shape as well it is rectangular where it goes inside the whistle and oval at the other end, at the mouth piece.
The Two Blow Holes instead of one are made as in old pig nose whistles,This are never seen on escargots but were made in the late 1870s 80s onward, to end victorian times, 19th century round pea whistles*
My theory, the explaination is that this was done to prevent the Pea from getting stuck having two air streams leading into the chamber .
See what is Tortoise shell material,
http://en.wikipedia.org/wiki/Tortoiseshell_material
* .(a note to myslf, Pea size) . To be cont. when and if I find more details about the maker or see the whistle in a catalog which is unlikely..
Thanks for reading.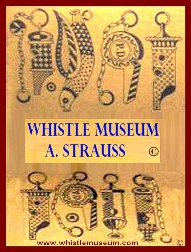 Whistle museum, A.Strauss
All rights reserved please do not use any part of this web page without a written permission from the author.
Trackbacks