A. De Courcy Small Siren whistle Model # 101.
Rare siren whistle , only one known to exist, made by A.De Courcy,

At the time I found it in the catalogue no sample was known I updated this 6 years after noticing the whistle in a catalogue, with a whistle found. the whistle case is made of Nickel Plated brass.
Length 55.7 mm
It is probably the only cased siren whistle with all components made of brass.
.
This whistle appears in Dyke & Co. of London Arms catalogue of c. 1910 or a few

years earlier, for the first time. and did not show in any of his other catalogs.


Dyke & Co. were retailers of De Courcy's whistles.


The whistle has a milled screw top and 4 vents. It is described as;
" Siren whistle, Imitation of a Fog Horn" and it was an expensive whistle at the time, the highest priced in the catalogue. 1 Pound for a dozen.
It is named the "Syren" .
The rotor disk is made of brass centered on a hinge that goes to the bridge on top of the internal case of the mecanism that was inserted to the whistle's body which served as internal case.

For more about A. De Courcy History and whistles see my Article with newly added pictures and info; http://whistlemuseum.com/2009/02/01/a-de-courcy--co--birmingham-whistle-maker-samples-of-escargottype--general-service-whistles--whistle-museum.aspx
A paper including De Courcy's models and whistles will be published in the future.

For more about siren whistles Here
http://whistlemuseum.com/search.aspx?q=SIREN&sc=t&dt=a&al=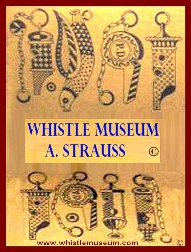 Wh

istle museum, A.Strauss
Copyright © 2008

updated 2012, All rights reserved please do not use any part of this web page without a written permission from the author
.
Trackbacks