Boy Scouts Whistles, History, American Boy Scouts Whistles , British Boy Scouts Whistles and Around the World .
I will bring pictures (App.70 photos) and add notes and twhistle types later, as I did with some articles of larger scope. (A.S.)
underconstruction
few dozen photos out of 70 loaded
Intro
and types.
See also
Boy Scouts whistles
Girl scouts whistles
Compass incorporated Variations (15)
Penknife inc.
Dozen Carded Emca whistles

American scouts whistles
British scouts whistles
French scouts whistles
Scouts Whistles Around the world ( China, India, Ausralia, Canada, Palestine, Israel, Etc.)
British Boy Scouts Whistles


By the time the Boy scout movement* flourished there were just two major makers left in England J Hudson and A De Courcy, but the popularity of the movement led these two manufacturers to making andf designing close to hunderd whistle models and variations .
Mostly Flat rectangular type and Short flat rectangular type
Escargot - referee type
Two note cylindrical ( GSW)
The Fluer de Lis Shapes
And over 20 variations of the first three types mentioned incorporating compasses, Compass whistle combinations.
A.De Courcy Registered Design 553181 of 1909 made in three sizes.
Small one is 60mm others 65 and 74 mm. Steel body, brass mouthpiece and boy scouts shaped cap.
made of brass.
Pinched hat
See a previous full article about the Acme model 367 by J.Hudson & Co.
the Fluer De Lis Shaped model and a rare variation discovered.
here

-
British Commonwealth and colonies, Palestine , boy scouts made by J. Hudson.
1930's.
Acme whistle early 1930's catalog page exerpt with Scouts whistles.
All with stop holes. " Double Notes whistles messages in Morse can be transmitted
by a simple manipulation of the finger over the stop hole "
Actual examples of all these models appear here.
Model 49 1/2
A De Courcy
84 MM Model 87 Late 1910's ,
also made as in size 72 mm Model No 88
and 80 mm Model # 87 and Half
steel body, with brass cap and mouthpiece nickel lated or oxidised,
will bring catalog pictures.
on the right a small one with a Fluer De Lis symbol embossed on top.
The whistles were displayed at stores and with whole sellers on card
Traditionaly whistles were sold by dozens/
Here is one of many variations of carded whistles by Acme Whistles
Group # 540 Emca scouts whistles.
GSW's with Compass
De Courcy 'Scout Master' Patent stamp on his largest model Number 186 available without compass as well as model # 47.
95.88 mm this particular one appears im M Gillchrist book pg, 72
-
A. De Courcy 1923 model 187 Registered Design No 700191, very rare, note the way the compass is 'riding' on the whistle and the unique compass needle.
Length : 83.87 mm
1) The scout Master by De Courcy at top for size comp.
2. A.De Courcy Model 149 with Round Loop L: 70.73 mm
Boy Scout Patent stamp .The compass has a deep stamp, A2.
3. A. De Courcy Stamped; Girl Guide Patent 66mm. Note very small loop.
4 J. Hudson & Co. L; 67.9 mm stamped 'The Emca Guide Whistle England'
Emca was the letters of Acme in reverse.
Stamped 'Girl Guides Registered design no. 494339' Model 47and Half
by J. Hudson and Co.with slight length variations app 61mm to 63.5 mm thecompass glasshas an Aluminum frame. oxidised.
Both manufacturers made scouts whistles with penknives combinatyions.
See a previous article about these.


Short Flat Rectangular Type
Hudson Model 0491/2 Model
Model 040 1/2
Short Flat Rectangular Type with Fluer de lis symbol.
Long Flat Rectangular Type Incorporating Compass.
The two on the right side are by J. Hudson & Co. the other two are French Made.
Right to left
1 The Acme Girl Guide with Pilar Knop Top. Model 418 as seen in the catlog above
but incorporating a compass.
2 The Acme Girl Guide Model 418 England 1920s Model 76.29 mm without loop
3 Boy Scouts France 70 mm made by Manufrance. note the "Droped Shoulders" which can be used for french made ones.
U.K ones had "straight shoulders"
4 Boy Scouts France with knot simbol- ornament ( difficult to see in this photo)

== American Boy Scouts Whistles==

Boy Scouts of America // Brief History (underconstruction)

While in the U.S.A there were more makers (which Iwill discuss later) then in England at the period. there were less whistle types made,
Mostly the G.S.W and the Escargot - referee types.
Probably dew to the demand and the competion with imported British, French, German and Japanese made scout whistles.
GSW's

Early Girl scout unibody cylindrical two notes whistle.


More examples to be uploaded.

Escargot type

There are about 10 variations of American Boy scout and Girl scout Metal referee type whistles
I shall bring more pictures and notes
-
The Gotham Metal works Inc. of Brooklyn N.Y. were one of the larger makers of Boy scout whistles in the 1930's, The "teardrop" tie and "Be Prepared" on Logo.
Camp Fire Girls
-
The wave logo Girl Scout.
The Flat loop variations.
-
Girl scout eagle embossed.
-
Field Manufacturing Co. Girl scout, Green.
-
French Scouts
see History
Rare early 1910's cast Britannia metal France stampes "scouts" and three stars in
an oval frame.
Short Flat whistle with stop hole, Made by Manufrance. note the 'droped Shoulders' and Knot ornament. The 1910 French catalog shows many models by Manufrance and vice versa. At times it is difficult to tell which model came first.
There was certainly a reciprical influence concerning design between various european whistle makers at the time.
Cast GSW with Fluer De Lis symbol.
Rare French GSW with flate loop 'La Hutte' and Pin 1920's 30's
-
3 Cast brittania metal whistles.
Top Boy Scouts madein Japan
Below Boy Scouts France and Scouts.
German Scouts
A bubble knop german whistle with Fluer De Lis c 1920's.
Made by Van Der Crone.
Chinese Scouts Whistle
-
To be cont....
Baden-Powell
Scouting began in England in 1907-08, created by General Robert Baden-Powell. B-P, a 50-year old bachelor at the time, was one of the few heroes to come out of Britain's South African ('Boer') War. He was known primarily for his unusual ideas about military scouting, explained in his book Aids to Scouting. Startled to discover that many boys were using his military book as a guide to outdoor activities, he began to think how he could convert his concepts of army scouting for men to "peace scouting" for boys. Gathering ideas from many sources (including Ernest Thompson Seton, who had founded a boys organization in the US), he tested his program on a group of boys on Brownsea Island in 1907. The island camp was successful, so B-P rewrote his military book, calling it Scouting for Boys. The climate was right for a youth program like Scouting, and it spread quickly around the British commonwealth, then to other countries.
World Scouting Today
Today, Scouting is found in 190 of the world's 195 independent countries. The United States has a single national Scouting organization (many countries, especially in Europe, have several separate Scout organizations, divided by religion or language, with different uniforms, advancement, and national hierarchies). Scouting is the world's most successful youth movement.
* The British Boy Scouts
Who were the British Boy Scouts ?
In 1910 out of 150,000 Boy Scouts in the UK, 50,000 were British Boy Scouts spread out in almost every major town in the Kingdom. Therefore you would have had a good chance of meeting a Scout from the BBS. Even after the Edwardian years after the BBS had shrunk in size, the BBS were represented strongly in various areas of the country; South London 1909-1945, Gloucestershire 1909-1971, Nottinghamshire 1926-1936, Yorkshire 1926-1967. From the period between the two world wars to the present day, if you came across a BBS Troop, the main thing you would notice is that it was attached to a Church and that indeed the Church formed a good part of its programme, almost as if it were, a uniformed Christian Fellowship. Apart from that, the differences in the activities of BBS troops and the Boy Scouts' Association troops were minimal. The BBS had developed as a Church based organisation but never restricted to any single denomination yet in each location it was a full and active part of Church life.
From 1926 until 1971 the biggest inspiration within the BBS came from Percy Herbert Pooley. Mr Pooley had joined as a Scoutmaster in 1911 becoming the Chief Commissioner in 1926. Pooley was a Christian of missionary outlook as well as being a Scout and he combined the two in the development of the movement. Mr Pooley developed and expanded Troops in South London and in Gloucestershire and promoted the starting of troops elsewhere. Through the work of the BBS & BGS hundreds of boys and girls were won to Christ. The work has continued and the BBS & BGS can be found in such places as South London, Lydbrook, Norwich, Liverpool and Birmingham. The number of Troops throughout the BBS & BGS's history may have not been large but the influence of the BBS & BGS on young lives has been enormous, producing men and women who have gone on to serve the Community in all manner of ways.

* The beginnings of Scouting
Lord Robert Baden-Powell of Gilwell (1857-1941) was a decorated soldier, talented artist, actor and free-thinker. Best known during his military career for his spirited defense of the small South African township of Mafeking during the Boer War, he was soon to be propelled to extraordinary fame as the Founder of Scouting.
He had been impressed during the siege at how boys had used their initiative under pressure to make themselves useful and capitalize on limited resources. Already thinking of developing a training programme for young people Britain, he was urged by friends to re-write his handbook for soldiers (Aids to Scouting) for this younger audience.
In 1907 he held an experimental camp on Brownsea Island, Poole, Dorset, to try out his ideas. He brought together 20 boys, some from public schools and some from working class homes, and put them into camp under his leadership. The whole world now knows the results of that camp.
Scouting for Boys was published in 1908 in six fortnightly parts at 4d a copy. Sales of the book were enormous and boys soon formed themselves into Scout Patrols. What had been intended as a training aid for existing organizations became the handbook of a new and, ultimately, worldwide Movement. B.P.'s great understanding of young people obviously touched a fundamental chord both in this country and others. In September 1908, B-P set up an office to deal with enquiries pouring in about the Movement.

A web site dedicated to whistles, research and collecting whistles.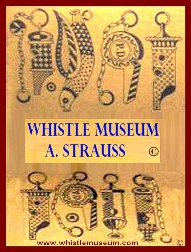 Whistle museum, A.Strauss All rights reseved please do not use any part of this web page without a written permission from the author.
Trackbacks