S. Mordan Silversmith, History and Examples, The Whistle Maker. A Strauss
Forward


1882 Hazlenut shape jewel whistle.


Silversmith where ahead of their time dating whistles by stamps (Silver Hallmarks) and by original designs, as most whistle makers of the 19th Century were making whistles along another line of products, so did some silversmiths .
While Sampson Mordan is one of the most renowned makers for mechanical pencils and other items, he made a large variety of whistles probably more than any other silversmith I am aware of. He certainly deservs a review of his history and his history as a whistle maker which was over looked.
Mordan made his original versions of professional whistle types as well as designing new whistle combinations and Jewlery whistles. It is interesting to watch and compare the parallel developmens the early whistle making of the 'Professional' whistle makers and the Silversmiths in England.
I dug into his history and brought few of the many examples. I will bring more and add notes to the whistles as time permits. A.Strauss


Sampson Mordan (1790 - 1843) The SIlversmith and Whistle maker
(underconstruction, A.S.)

Was a British silversmith and a co-inventor of the first patented mechanical pencil. During his youth, he was an apprentice of the inventor and locksmith Joseph Bramah, who patented the first elastic ink reservoir for a fountain pen.
== Adress and Timeline ==

1815 starts his indepenant work.

1822 registers the mechanical pencil pat. (see drawing)

1823 (June 20th) enters his first silver hall mark.

1823-36 in Partner ship with partnership with Gabriel Riddle, an established stationer. marks are "SMGR".
Mordan and Riddle had their premises at 22 Castle Street, City Rd.,where S. Mordan & Co were first listed as "patent ever-pointed pencil and portable pen manufacturers."

1837 - "S. Mordan & Co."
41 & 43 City Road London EC. The company is growing to make many other items beside mechanical pencils.

1842 the company opens a 'warehouse' or retail premises at
50 (re-numbered c.1854) Cheapside which they retained until c.1892.
(In addition to their manufactory in City Road)

1843- Sampson Mordan (Senior) dies his sons Sampson (junior) and Augustus inherited the firm. They were later joined by Edmund George Johnson and Zachariah Watkins who retired in1879.
1860's onward company keeps growing In addition to silver and gold pencils the company also produced a large range of wares, especially novelty items in both gold and silver They supplied silver articles to many retailers

1881 Sampson Mordan Junior dies in Paris, his share of the business passed to Augustus.

1890 Harry Lambert Symonds had joins the business as a partner.

1898 the company converted to a limited liability company and operated under the name S. Mordan & Co Ltd.

1900 The City Road Factory was rebuilt and showrooms were opened at 9 & 11 Warwick Street, Regent Street, London W and takes over the buisness of
Johnson Sons & Edmonds of 32 John Street Bedford Row, London, WC.

1909 they moved to Belfast Chambers, 7 Beak Street, Regent Street, London W.

1933 the company gave the distribution rights on their propelling pencil business (for which they were and are famous) to L. G. Sloan Ltd., The Pen Corner, 41 Kingsway London WC2
1941 The company ceases trading following destruction of their factory by enemy bombs during the London Blitz, patents were sold to Edward Baker.



1889 London type escargot whistle with spiral design.



June 21rst 1870 Corncupia,Registered design, Horn shaped perfume holder, Vinaigrette and whistle combination Jewel.
A Vinaigrette Jewelery.
1881 The same owl head design was used for a variety of items made by mordan here it is a part of a round pea whistle.





1897 Vewsta case and whistle combination.



1884 Tappered round whistle I usually refer to as tear drop shape.

1888 FOB 40mm by 18mm Rectangular Flat type ribbed whistle.


1889 Oval whistle with spiral design.




Pencil - Whistle Combinations By S. Mordan.


1822 Patent for mechanical Pencil.


Few of MANY Mechanical pencil & whistle combinations Mordan was know for.


1883 Mechanical pencil and whistle comb.


1880 Gold.

To be continued. (A.S,)

The most recent and most detailed history of the company can be found in Edward Eldred's 'Sampson Mordan & Company' which is an illustrated leaflet produced in 1986
To be continued.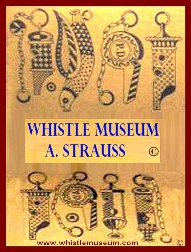 Whistle museum, A.Strauss All rights reserved please do not use any part of this web page without a written permission from the author.

Trackbacks