Police Ring Whistle, Cooks Bobby Whistle & The Petrie Ring Patent
Cooks Bobby Whistle
Lentg 41.8 mm
Heigth: 45.6 mm
Stamps ; 'Cooks Booby Whistle' on one side and
'Registered No. 193824' on the other side.
The number striked me as it may be dated to 1924 as in German Patents with 4 digits and two more for year date. It seems to fit the patina and construction but it may had been made earlier.
Since the origin of the whistle is Australia I assumed it may be an Australian Patent,
I had not been able to find the Patent but It reminded me of another patent the American Petrie ring Patent of 1938 , scroll down to see .
The whistle Is a professional Police whistle, with heavy construction, seems it had much use.
Built of 5 parts and a pea, using red brass, Gunmetal for ring Brass for whistle cap and thewell designed part that the whistle sits in. with mahogany fipple.
I did write about ring whistles and collecting Ring whistles in the past
http://whistlemuseum.com/2009/06/12/thematic-themes-ring-whistles---astrauss---13-samples-2.aspx
I do not recall now seeing any other real p[rofessional ring whistle beside the
German 1920 one
and that one, some great premiums and novelty toys and Jewlery items but not a heavy professional one. (Excluding the well made Hudson and De Courcy GSW whistles with an additional ring loop at side)
-
-
E R Petrie U.S. Patent No 1,688,348 of 1928 , Part of Patent Drawing.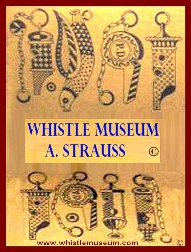 Whistle museum, A.Strauss
All rights reseved please do not use any part of this web page without a special permission from the author.
Trackbacks