Coca Cola Cardboard Whistles, 1910 - 1920.
Coca Cola Cardboard whistle Ads, 3 Examples 1910 - 1920
Coca Cola Cardboard whistle ad. C 1913.
Coca-Cola was sold in bottles for the first time on March 12, 1894. The first outdoor wall advertisement was painted in the same year as well in Cartersville, Georgia.
The famous Coca-Cola bottle, called the "contour bottle" within the company, but known to some as the "hobble skirt" bottle, was created by bottle designer Earl R. Dean. In 1915, the Coca-Cola Company launched a competition among its bottle suppliers to create a new bottle for their beverage that would distinguish it from other beverage bottles, "a bottle which a person could recognize even if they felt it in the dark, and so shaped that, even if broken, a person could tell at a glance what it was."
Coca Cola Cardboard whistle ad, post 1916.
See more about Coca Cola History, at the
Wikipedia



-
The inside of a the later Coca cola Cardboard whistle manufactured by Fawlkes at their 536s Clark St. Chicago ILL. -
All these Coca Cola Cardboard whistles are rare and prices range from $ 250 to
$ 800 .
Cans of Coke first appeared in 1955.other advertisments whistles of various types
appeared on wood tin and plastic whistles, all fetch nice prices because of Coca-Cola items collectors.
For 7 other articles about Cardboard whistles see here
http://whistlemuseum.com/search.aspx?q=CARDBOARD&sc=t&dt=a&al
=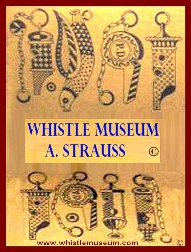 Whistle museum, A.Strauss
All rights reseved please do not use any part of this web page without a special permission from the author.
Trackbacks