1881 Bean's Police Club, American Truncheon, Police Whistle Club Patent and Catalog. A.Strauss
Bean's Policeman's Billy.
This rare American police whistle on the end off an actual 19th century American Policeman's club, swager stick, was found on the bottom of a box, in a storage unit in massaachusets by one of my readers who read about his whistle in a previous post here and wished to know how much this would be worth.
I think with some further research it could actually be traced to the particular Policeman who actually used it in the New England area.
I am always pleased when an item I know should exist, after finding it in an old catalog, magazine, or Patent, and had not actually surfaced before appears.
Likewise I find great pleasure when identifying an old whistle, that was unidentified before. It is my reward at times, after years of search or pondering over an item.
Mean while I thought of sharing it with the readers and visitors.
The previous article was here
http://whistlemuseum.com/2009/02/18/the-rarest-american-whistle-bean-police-whistle-bean-police-whistle-patent--the-holy-grail.aspx
Looking closely at the club one can see the markings few skulls left...
This club had sure seen some action in its hey days.
1886 catalog of police equipment gives the choices of 4 sizes 8 inch 10, 12 and 14
with Flexible leather hand and call . Prices are 30 USD for a dozen of the small one with the call and additional price of 3 USD for each size consequently.
The clubs without call are a $ less that is $12 less per dozen.
-
Here are some notes at the wikipedia.
Swagger Stick

Baton, Billy Club, Truncheon


E D Bean Policman's Billy. Pat No 248,694 Oct 25, 1881. Part of Patent's drawing.
Some notes about the usage of the Baton Theory and usage from wikipedia

Under most American law-enforcement agencies' and departments' use-of-force policies, a baton may be used when a firearm is inappropriate or unjustified, but greater force is needed than can be provided by bare hands.
A police officer not equipped with a baton may be forced to choose between two extremes in responding to criminal assault: bare hands or firearms. Thus, the baton fills an intermediate role in the weapons available to peace officers, and gives flexibility to defend against physical attack proportionately.
If a police officer is fired upon by a suspect with a firearm from a distance of several meters, the officer's best option may be to seek cover and to return fire with their side arm. If an unarmed suspect passively resists arrest and is not actively assaulting the arresting officer, striking the suspect with a baton in order to gain compliance may be considered excessive force, depending on the use-of-force policy governing the officer.
Between these extremes (in terms of the threat posed to the officer), a baton would prove useful. If an unarmed suspect tried to attack an officer at arm's length, and the officer were smaller and weaker and couldn't defend against the suspect without using weapons, it would be fair and prudent for the officer to subdue the suspect with baton strikes to non-critical areas of the body. Baton strikes may be justified and ideal in an attack by several unarmed suspects.
Target areas
Before the 1970s, it was common for law enforcement in the United Kingdom to "brain" suspects (strike their heads) in order to stun them or knock them unconscious. However, this was unreliable and potentially fatal. Civil lawsuits and claims of police brutality resulted in better training for officers.
In modern police training, it is not permitted to hit the skull, sternum, spine, or groin unless such an attack is unavoidable. The primary targets now are nerves, such as the common peroneal nerve, and large muscles, such as the quadriceps or biceps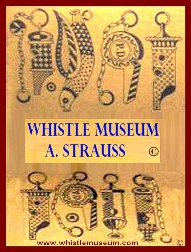 Whistle museum, A.Strauss
All rights reseved please do not use any part of this web page without a special permission from the author.
Trackbacks