Unique Antique Gunmetal Whistle. What is Gunmetal.
Side view
Lentg; 72 mm
The Mariana** is one of the most beautifully designed whistles, made of machined
Gunmetal*
Gunmetal
, also known as
red brass
in the United States. Made in the 19th or 20th century.
Most gunmetal whistles which are all rare had been made in the 18th and 19th century and up to world war one as far as I have observed.
This particular whistle was originally collected by Martyn Gilchrist and can be seen in his recommended book
'More Whistles'
Pg. 52. The whistle appears on the book's cover as well.
I believe the book is available thru the
recommmended
website about whistles
whistleshop.UK
The whistle was made by an unidentified maker probably British maker
(all three found in England), and has two sisters, variations, one lives across the sea and has a 1920 inscribtion to a sea man.
This may hint at the period made though some stamped with date maker had an inscribtion engraved many years after the manufacturing date. As with some Hallmarked silver whistles.
Gunmetal lends it self well to sea man's whistles being resistant humidity and salt.
The general unique design is a bit reminiscent of some rare small French cast whistle that is copper plated. (I shall bring a photo),
Though it is considered a Round whistle type , it is conical like a short beaufort type with a conicl top cap.
* Gunmetal
, (From wikipedia) also known as
red brass
in the United States,is a type of bronze – an alloy of copper, tin, and zinc. Originally used chiefly for making guns, gunmetal was eventually superseded by steel.
Gunmetal casts and machines well and is resistant to corrosion from
steam and salt water,
and is used to make steam and hydraulic castings, valves, and gears, and also
statues
and various small objects, e.g. buttons.
It has a tensile strength of 221 to 310 MPa, a specific gravity of 8.7, a density 8,719 kg/m, and a Brinell hardness of 65 to 74.
Scroll down for
Variants og Gun Metal. ***
The web site is a labour of love and your appreciation by visiting the new advertisments on the left contributes to to the continous whistle research we share.

Comments and Questions are answered now on a daily basis and we thank the growing visitors comunity.

A whistle a day keeps your blues away .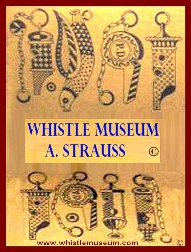 Whistle museum, A.Strauss All rights reseved please do not use any part of this web page without a special permission from the autor.

** A nick name .

*** Variants og Gun Metal.
Gunmetal ingot is a related alloy where the zinc is replaced by 2% lead; this makes the alloy easier to cast, but it has less strength.
Modified gunmetal contains lead in addition to the zinc; it is typically composed of 86% copper, 9.5% tin, 2.5% lead, and 2% zinc. it is used for gears and bearings.
U.S. Government bronze specification G is composed of 88% copper, 10% tin, and 2% zinc.
G bronze (or Copper Alloy No. C90300) contains 88% copper, 8% tin, and 4% zinc.
U.S. Government bronze specification H is composed of 83% copper, 14% tin, 3% zinc, and 0.8% phosphorus.
Red brass can be considered both a brass and a bronze. It typically contains 85% copper, 5% tin, 5% lead, and 5% zinc. It is used to produce pipes, valves, and plumbing fixtures, and is considered to offer a good mixture of corrosion resistance, strength, and ease of casting. Copper Alloys C23000, which is also known as red brass, contains 84-86% copper, 0.05% each iron and lead, with the balance being zinc.
Gunmetal can also mean steel treated to simulate gunmetal bronze. Bushings made of this metal are used in machinery.
Trackbacks