Indian Whistles, Escargot Type Brass Whistles.
A. Strauss /
Underconstruction
I am particularly fond of referee whistles, known among collectors as Escargot type whistles, or referee type.
The ones made in India are unique because of the hand work involved that makes each whistle different, It is interesting to note the none pressed toothgrips and Knops of the heavier whistles, many are hammered and hand filed from heavy solid brass, and the file marks and asymmetrical appearance are unique.
I will continue this article later but first I will bring some photos and then later will develop the text.Construction, Makers, Stamps, Periods and more.
Any help by comments or photographs of ones that you do not see here are welcome.
The Thunderer Whistle / Durbar/ ASCO THUNDER WHISTLE Empire Made
-
Made In India / Made In India / Made In India
-# different size whistles all stamped made in India, all brass, two are nickel Plated.
T.E Thomson & Co. Ltd. Calcutta whistle, 1891-1905 Made by J. Hudson & Co. England for a local supplier.
1941 Dated Military whistle
STC in diamond shape logo, PFGD on the underside of the whistle.
The Thrill Whistle
2nd world war period, WWII. Few samples of many variations.
1941

J.P & Sons Aligarh
Eden & Co.


1942

K.M.G.S. 1942

T.B. 1942


1943


PlayFair Made in Indiaon a humpback cap knop style and tappered mouthpiece.
-
SONDICO
Maharashtra State Police whistles. The Mharashtra State Police
Wikipedia

To be cont.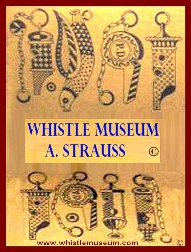 Whistle museum, A.Strauss
All rights reseved please do not use any part of this web page without a written permission from the author.
Trackbacks