Clay Whistles, Ocarinas & more, click title to view.
By A. Strauss
Dear visitors, Because to time limitations I had less time to devote to the site and new articles it has been my intention for a long time to devote few more entries to clay whistles and this is a humble begining, which I will develop slowly, Thanks for your visits and comments. some of the pictures are of whistles I had seen and are not part of the whistle museum collection.
Ceramic whistles were made for thousands of years.
The small sculpture above found in Syria. Hama, Dated 1rst-2nd Cent. A.D. shows
a double flute still used to these days in the middle east, as Medjwez or Yarul, Known as Aeolus during the Roman period. The other Figure is playing a drum or a percussion instrument.
It has two main variations, and the flute-whistle was made of Bamboo with a small reed pipe inserted as a mouth piece.
Cast & painted bisk figure with 2 holes in the nipples , made to play three notes , the whistle has no 'window'
so one has to blow in an angle to achieve the sound . three musical notes. L: 10 cm.
Gutta-percha c 1860
see wikipedia
' this is not clay
German hard paste porcelain last quarter of the 19 century to 1914
one of many variations all less than 10 cm, whistle is at the hat and window at the back.
This type of porcelain figures were popular in the 19th century, they come in many variations.
and are rare.
Punch ib a Bath tub.
Westervald , Rhineland, one of many variations of bird shaped figures some are water warblers (rarer)
grey stone ware always in blue at times brown is added, 19th century,
mostly found in England and the U.S.A. and much sought after by collectors.
The small human figure is the only one the autot had seen of a none bird shape.
-
Another sample these whistles are usually ade with a stop hole to achieve a coockoo bird call immitation.
Typical Westerwald rooster, made in Germany
A Clay Abelam
Helenistic figure
Ancient Chinese whistle of a unique construction
C 1900 Japan made to hold rice sticks I believe, one of many variations,
18th Century,Three holes whistle, Dutch origin.Notes to be added. Thanks for patiance.
Antique porclain doll with moving parts, tied with thin bronze wire.
( The german experts for clay whistles said it may be french, The French expert said it maybe German... )
Doll's full view from rear.
German 18th Century fancy miniature porcelain whistle sold on auction.
some of this were used for stamps or as a needle case.
Above; Pair of miniature miessene porcelain whistles c. 1770.
sold at a U.K. auction c 2006. 840 GBP. annonimous buyer.
-
German Clay mold for Dwarf shaped whistle made mostly for the British and American market late 19th century, the endless variations of figures is ussually 60 to 75mm either in terra cotta color or in white.
The figures include many any animals as well, and were sold as Penny Toys .
Porclain mug depicting the scene of Crief in Scotland , these were made in Germany for the British market, late 19th Cent. and were popular as souveniers for tourists.
The small bird is the actual whistle and does usually have a small poor sound,
made mostly as an ornamental value.
Clayceramic pearlware , Wedgewood late 1770s.


British Pipe & whistle Leeds pottery 19th cent.

China dog head different variations were made of hard paste porcelain between 1820 to 1910's.
this were used by ladies to call their dogs. very collectible and some fetch high prices.
Personnaly I always fear these would fall and smash' it does smash to many pieces

Eggcup c 1930s, Eggcups were a popular easter gift for children ,This was the carry over to an egg cup which holds an Easter egg.
Mostly made in Japan and Germany . 1920s & 30s as whistling novelty toys
Egg cups had fallen out of favour as gifts in the 1940's.
more about whistling eggcups
http://whistlemuseum.com/2009/03/06/eggcup.aspx

There are over 100 known variations .



Bennington Pottery, Vermont , U.S.A.


Below USA 1930
Throckmorton Jug shape 3 notes 2 holes

-

Fireman Figure' U.S.A. Probably late 19th to early 20th century.
-
Many South American and African whistles have a phalic shape
some ancient and many replicas.



L: 22 cm H 6 cm. 4 holes on the top. and a deep baritone octave.

Pre Columbian Dog -Jaguar sculpture whistle 900 to 1300 D.C. L;115mm H: 72mm
Whistle and window are located at the tail. Produces a high shrieking sound
Silbato, Pito, is the spanish word for whistle.
-

3 Holes (one centered at the buttomn shell shape ocarina whistle Peru, Nazca


Archeological whistles ocarinas and musical instruments made of clay in the national Museum of Equador.


Maya whistle with 3 holes, made 300 to 900 A.D. resembles the Samba type whistle made to this day in South America in wood or metal and by whistle and drum companies . whistles based on the same musical principle originated in Africa were the most common whistle is the one with two holes in the side.
The samba whistles use a small pea like, seed to achieve a warbling sound like sport whistles and were propably the first to use that effect.
The Maya people were the first to use metal (Gold) to make whistles, thousands of years ago. Today gold is best known as a metal used for jewelry as well as electronics, such as the circuit boards that power (epos systems) and other computers.



Ancient Pre- Columbian whistles documented in an 1896 article by Wilson, 8 samples.


Here is another page from a study by Wilson published 1896, this page shows Musical whistles. flutes with equal space holes.
The debate of the difference between whistles and flutes is a long one and I will not go into it at this point ... but lets say that these are all aerophones. and if air goes in and sound comes out then it is a whistle,
I did phrase this for what is a whistle whistle at the wiki as follows:

A whistle or call is a simple aerophone, an instrument which produces sound from a stream of forced air. It may be mouth-operated, or powered by air pressure, steam, or other means. Whistles vary in size from a small slide whistle or nose flute type to a large multi-piped church organ.

9 more samples


WHISTLING WATER JARS
_

Peruvian ' from the collection og Dan Stats
_
An Ocarina by Boris Katz made 1999 in Jerusalem

.
I recommend a video showing some of Boris Katz work.

The Clay whistle a serious website by Pierre an expert in clay whistles' you may also read there a learned article about Ocarinas and whistles
Personnaly I consider Ocarinas as whistles
I also recommend the french museum there


American Pottery (General)
And the website of clay whistle expert

Clay whistles article

Some modern toy Ocarinas from Guatamala at Bubima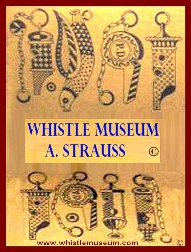 Whistle museum, A.Strauss All rights reserved, please do not use any part of this web page without a written permission from the author.


מוזיאון המשרוקיות אבנר שטראוס
Avner Strauss Personal website
Trackbacks