Thematic Themes; Ring whistles, A.Strauss 18 Examples arranged in chronological order.
Ring whistles
were an attractive novelty items toys for longer than one would assume ,
made of clay, metals ; brass , cast metals, silver, and later of plastic and mixed metal and plastic.
After WW2 and the plastic boom many toy rings were made but the ones with whistles are rarer and
sought after both by toy ring collectors and whistle collectors.
Here are samples from the Pre Columbian south American one to the 1960's.
From Peru to England Germany and the U.S.
Clay ring whistle
Pre Columbian clay whistle, Peru.
Metal ring whistles
16th , 17th century cast ring whistle dug in London, double headed eagle, ( picture found at flix website).
Britsh made, sterling silver ring whistle, with Georgian shield. whistle is in the loop, a unique design. it is the actual whistle that can be viwed in Martyn Gilchrist book "whistles" Pg. 28.
German Military whistle
Above ; a Professional referee German ring whistle made of nickel plated brass, plating worn off.
Stamped
Ges. Geschutzt
. for german patent. It does appear in some catalogues advertisments . as Army major conductor's whistle.
Noted in catalogues of 1925 and propably earlier ones as well. Made by Martin's deutsche signal manuf. in Markneukirchen,
the "Birmingham" of german whistle making.
Below a side view of the same one. and the stamp, for a German Patent.
You may view another
Proffessional Bobby Ring
whistle Patent recently added in here and the American Petrie Patent drawing of 1928 for a Ring whistle
http://whistlemuseum.com/2012/03/16/police-ring-whistle-cooks-bobby-whistle--the-petrie-ring-patent.aspx
Siren whistle & compass ring, Japan 1930's. cast metal, guilt.
Jack Armstrong Egyptian siren whistle ring and the secret whistle code. 1941 U.S.
Tom Mix, with Slide whistle made of aluminum. 1940's.
Tom Mix radio show started 1933 ended 1950.
Clarrabell Howdy Doody horn ring whistle, 1951 guilded cast metal and aluminum.
3 parts of a 'rescue ring' 1951 Roger Wilco Flying Tigers "rescue" ring ,
Guilt tin skeleton whistle hidden in a plastic box.
1953 cast metal premium by 'Prevue' , Flash Gordon premium.
A Salesman sample.
Plastic Ring Whistles
Captain Video premium ring whistle. 1950's. Rare. 1949, Captain Video beat out Buck Rogers as television's first venture into space. one of the most popular children's shows of the time. Two Power House candy bar wrappers and 20¢ would entitle fans of the show to this Captain Video Rocket Ring, the window in the rocket compartment is actually a magnifying glass .
-
1957 crazy rings series. used as vending machine prizes, as premiums and as novelty toys.
Plastic sirten whistle U.S.A 1960's.
1960's Quisp cereal, space ship ring whistle.
Buster Brown Shoes Big foot premium 1960's.
To be continued.
Cast Japanese siren whistle 1950's ; Space Patrol Siren Warden Division whistle
on card. the whistle is stamped on its other side.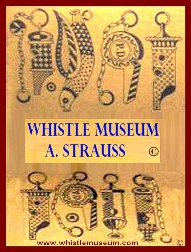 Whistle museum, A.Strauss
All rights reseved please do not use any part of this web page without a special permission from the author.
Whistle museum, A. Strauss Copyright © 2009.All rights to article and photos reserved no part of this article, pictures, web page is to be used without explicit permission from the owner
Trackbacks