George W. Shiebler & Co. American whistle manufacturers. (At work)
George W. Shiebler & Co. American whistle manufacturers.

A Strauss Copyright © 2009


GEORGE W. SHIEBLER & CO - New York, Silversmith.
Founded in 1876 by George W. Shiebler. Incorporated in 1892 as George W. Shiebler & Co. Out of business in 1907.
After selling his company in 1907, Shiebler was employed at Gorham, See sample at compass whistles (1), he continued to work at Gorham's until his death in
September 13, 1920.

Logo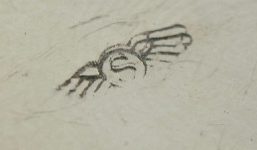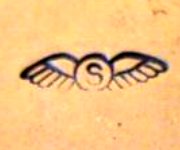 The winged "S,"
mark that was used by George W. Shiebler & Co. of New York City.


Author's note instead of Intro

Very few whistle manufacturers were making just whistles but we treat the narrow field of whistle making, at times ignoring their other works as important and significant as it may be.
The variety of artistic silverware produced by George W. Shiebler and Company is huge and known for his medallions and spoons.
Shiebler's repertory encompassed all kinds of silver ware and a broad range of jewelry.
George Shiebler maintained a low public profile, and it is not known to what extent he was the creative inspiration behind the many wonderful designs that came from his shop since he employed various designers.
Shiebler silver works had attracted many devoted collectors despite the lack of a Shiebler archive or published information about him , no doubt he was an outstanding American silversmith and one who made whistles that are masterpieces.

Addreses

All in New York City;
1871 - 170 Broadway st. With partnership.


Since 1872, Shiebler had a Jewelry business with his brother, at No. 4 Maiden Lane,
Manhattan.
1876 -


Unknown exact addres, same location as the Formerly known Coles and Reynolds silversmiths .

1880's -
factory is located in the Ketchum building at
York and Washington Streets in Brooklyn.

C. 1880's showroom , 8 Liberty Place.

late 1880's- corner of St. Mark's and Underhill Avenues in Brooklyn.

1892- Store in 179 Broadway Manhattan.

1897- 1900 - Decker Building at 33 Union Square

1900-1907 - 5 and 7 Maiden Lane.




A whistle by Shiebler with a Homeric , Etruscan head,
Shiebler's Etruscan was the first non-Japanesque pattern to incorporate diversity in both the shape and decorative motif ..
Sheibler started producing this figures on a silverware at 1882.
The portraits were based on images in pattern books of ancient sculpture.
Several American silverware manufacturers copied Shiebler's Etruscan patterns.
, as did French and English jewelers. Makers in Birmingham, England, called this the "Homeric style," a description that Shiebler used in his own advertising in 1900.

Shiebler also brought out a line of jewelry he called "curio medallion," which was designed to look as though it had been "unearthed at Pompeii and Herculaneum."


History

Shiebler born in Baltimore, Maryland, lived as a child in Washington, D.C.,
later working as a messenger for the Western Union Telegraph Company.
In 1867 he was a traveling salesman for Jahne, Smith and Company,
a Gold Chain manufacturer in New York City.
When Jahne and Smith died in 1871, Sheiblerand few other workers formed a partenr ship to keep the business running.
Shiebler left this partnership in 1874 and two years later bought the silver spoon manufacturing business of Coles and Reynolds.
In 1876 the Buisness was under Sheibler's name.
In 1877 he bought the firm of John Polhamus followed five years later by his acquisition of the factory of Morgan Morgans Jr.
In the 1880's Shiebler grew to employ over 200 man in the show room and the factory.
In 1892, the firm incorporated as George W. Shiebler and Company .
George Shiebler was president and his brother William F. was treasurer.

In 1892 he opened a large store at 179 Broadway in Manhattan, moving 1897, to the the Decker Building at 33 Union Square until the business closed in 1907.

In addition to selling from his showroom, Shiebler kept an office at which retailers from out of town could buy wholesale, and he sent traveling salesmen around the country with samples of his wares.

On November 19, 1907, the Shiebler Company, declared bankruptcy.
was bought by the Gorham Manufacturing Company of Providence, Rhode Island,
for twenty-four hundred dollars.
Two days later Gorham resold Shiebler's machinery, tools, designs, and benches to Hayes and McFarland of Mount Vernon, New York, for five thousand dollars.

Shiebler's hobbies were music and collecting autographs he died at the age of 74.
To be cont.


A whistle & Compass combination, Many of Shiebler items carried a Number , but the
numbering used by the firm is obviously not consecutive or chronological.

A General note on silverware
Silver jewelry was a large industry between 1880 and 1900 since relatively few could then afford gem-set jewelry. Firms such as William B. Kerr and Company and Unger Brothers, both from Newark, New Jersey and firms like Tiffany and Gorham produced jewelry stamped to imitate repousse work and then backed with a sheet of silver.
Shiebler's jewelry has a more solid feel. A section of a piece of jewelry may have been stamped or cast, but it was then finished with hand chasing or applied with decorative motifs, a closer inspection of the first sample reveals that the etruscan head was not added but an
integral part of the piece.


Although this whistle carries the "Fluer- de-Lis " embelem it was made before 1907
and before it was used by the scout's movement which was formed 1907.

I had seen other variations but all samples so far were the 'flat' hollow type and have the same arched top window.
(To be cont)


A.Strauss Article & Photos, No part of this web page , or web site can be used or copied with out explicit permission from the owner
All right reserved, Copyright © 2009
Trackbacks