Victorian double pipe, bubble top, Round Knop whistles.
Victorian British made Double pipe, Multi tube, bubble top, round knops whistles.

Double pipe whistles, Multi tube, multi pipes.two tubes whistles. are some of the names used for these type. Here are samples made by 3 classic british whistle manufacturers
Barral, Hudson, and De Courcy. a Ward made one is discussed in a different entry.
I ussualy devide these types into 3 general groups
1) Heavy brass. (See below)
Made 19th century to early 1900, These were relatively expencive and competition forced
makers into a liter cheaper variations.
2) Lite construction. with straight mouthpiece.
3) Lite construction tin angled mouthpiece which is the lightest.

Of course there are more subcatgories and 3 and 4 pipes as well. I should discuss it in more depth in the future.




Double pipe double bubble type, Probably J. Barrall.




Hudson Double pipe, none cast mouthpiece 1885, 90 mm, stamped diaphragm
( First hudson's digphragm design) 1885 to 1899 .



Double pipe with double bubble, grooved bubbles .
L; 87 mm, shorter; 74 mm,
Tube's Dia. 14.8 mm
W 20mm.




A.De Courcy 88 mm Double pipe with Bubble top, Plated Brass 88 mm.

To be cont.
see also
http://whistlemuseum.com/2008/02/09/double-pipe-whistle-with-inline-cast-mouth-piece-unknown-maker-strauss-collection-.aspx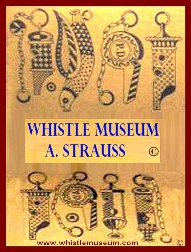 Whistle museum, A.Strauss All rights reserved, please do not use any part of this web page without a written permission from the author.

Whistle museum, A Strauss , Copyright © 2009.
Trackbacks