Bent & Parker, The British whistle maker, Whistle Manufacturers. (At work)
Bent & Parker Whistle Manufacturer History and Examples ( At work) / A. Strauss
Brassfounders, makers of whistles and military accoutrements in Birmingham.
Established 1835 by Joseph Bent.
== Address & Timeline ==

1835 J. J. Bent & Co, Charlotte Rd, Stirchley, Birmingham, brassfounders.

1863 J. Bent was Joined by Lawley Parker trading as Bent and Parker. B & P .
Early 1860's J. Hudson started working for the company and learnt to make whistles there, prior to his becoming an independent maker who was joined by his brother.
Bent & Parker Ltd., of Harpers Hill Works, Northwood St., St. Pauls, Birmingham
from c. 1900 Pembroke Street works, Worstone lane birmingham,
making belt buckles and bracelets.The company Incorporates as a limited company.
1914 Government contractors, manufacturers of military ornaments, badges, buckles, buttons, helmet and belt furniture. Employees 200 to 300.
Since About 1908 Appr. there are very few whistles evidently made by them,
it seems that as most other whistle makers they did stop manufacturing whistles
at the early edwardian period end of victorian times.
arount this period they stopped making whistles on a larhe or regular scale,
Bent & Parker whistles are found again in 1938** (** see details cont. at bottomn of this article) it is unlikely but possible they did made few that are yet to be found.
Bent and Parker made Police whistles , Here is an Example of the MP4 cylindrical two notes whistle (AKA GSW General Service Whistle) supplied to the Metropolitan police in 1883.
The metropolitan MP 4 police whistle # 15306 and closeups of mouthpiece and top.
This is whistle M.P 4 (Metropoplitan Police ) Numbered , the same whistle was made unnumbered and the word whistle added to stamp.
Unlike the other Metropolitan police whistles supplied by J Hudson, with full makers stamp and adress, the B & P one is hard to detect, stamped between windows it has a humble look.
Here is a close look at the cap loop and mouthpiece that make it easier to distinguish.
A very rare whistle.
Mouthpiece.
Birmingham Police

Military Whistles
Beside making whistles for various Police constabularies B & P supplied the first dated military General service whistles type. The earliest known is stamped 1889, Between 1890 and 1900 there should be dated whistles, I had seen some , but I believe some years had not been yet found. Dated whistles by B & P of this years fetch high prices.
The earliest dated GSW used with military forces. Dated 1889 (Above)
B & P dated 1905
"Chambers & Smith Peasant food makers Norwich Osborne Borough whistle"
1883 same model as the Metropolitan of 1883
E C Osborne 84 new st. Birmingham.
"The Borough Whistle" Osborne & Son, New St. Birmingham comes with few stamps the other osborn is arched towards mouth piece and the ornamet is simpler.
The "NEW BOROUGH" WHISTLE OSBORNE & SON BIRM. Stamped on both sides of the barrel - tube ;Patent No. 10828,
Patent was Valid 1894 to 1908
Size from side to side ; 37.73 mm barrel diameter 16.52 mm .
A two chamber call very effective dissonant sound a whole tone apart ,
tuned to
B
&
C#
notes,
Flat tappered mouth piece going into the tube and a nice tooth grip.
A beautiful whistle much sought after because it is so different than the standart professional whistle types.
All in all an interesting originaly designed whistle, later to be used and improved as an american patent. ( Details in another entry).
The whistle must have had some success since
J. Hudson & Co. Acme Whistles made the same whistle at the 1930s marked Acme and included it in their c .1935 Catalogue.
LCMB, London City & Midland Bank, 1900s-1910s

** 1938

AT 1938 whistles by Bent and Parker appear again, A GSW's marked 1938 arrow mark and with a new two piece top design
and a glasgow type escargot whistle with a footcrow marked 1938 simmilar to Hudson's acme thunderer large size.see pictures below
X
Body Stamps


Metroplitan Police ( on numbered whistles)
Metropolitan Police Whistle
Lancshire county Constabulary
Warwickshire constabulary (GSW)
Birmingham Police
"Chambers & Smith Peasant food makers Norwich Osborne Borough whistle"
The "NEW BOROUGH" WHISTLE OSBORNE & SON BIRM.
The Borough Whistle" Osborne & Son, New St. Birmingham
LC&MB London City & Midland Bank,
Dated police whistles from 1889 onward on GSW's
1938 on an Escargot. seeabove.
Patents
1894 Patent No. 10828,
1911 Patent 22309 two halves soldered , no examples found.
To be continued
Whistle makers , (#33)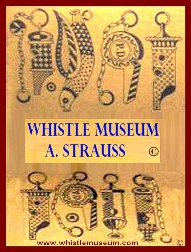 Whistle museum, A.Strauss
All rights reserved please do not use any part of this web page without a written permission from the author.
Article byAvner Strauss, whistle museum, All rights reserved, Copyright © 2008
Trackbacks