Whistling toys, Tops, Diabolos and more, To-Yos, Antique Western Whistling Diabolo (2)
Early Diabolo Patent.
-
Diabolo, Whistling Diabolo
, marked;
" DIABOLO, BTE S.G.D.G. PATENT D.R.P ." with a star logo.
"Bte S.G.D.G." is an abbreviation for a typical phrase concerning products from France. "Bte" is short for "breveté" (="patented") and " S.G.D.G." stands for "Sans Garantie Du Gouvernement" (="without government guarantee")
The D.R.P. signifies "Deutsche Reich Patent", an original and full patent
with up to 15 years protection. These were first issued starting June 1877.
so it seems that the patent was registered in France and in Germany.
Circa late early 20th Century.
It has some hard rubber around its edges.
This diabolo is made of iron and has two rubber belts around the sides,
two whistle windows of same size.
The sticks are made of bamboo with tin ends and measure over 50cm.
Barrel diameter: 65mm. length: 71 mm.
This is a western style diabolo, Two cones shape, for chinese variation and more details , see posts in same category.
see other posts here
http://whistlemuseum.com/2009/05/22/whistling-toys-tops-diabolos-and-more-antique-chinese-diabolo.aspx/
and singing, Humming tops
http://whistlemuseum.com/2011/12/21/spining-top-dreidel-and-other-spining-whistling-toys.aspx
whistle museum, notes articles and photos by A.Strauss Copyright © 2009 Courtesy
http://www.saltarbut.com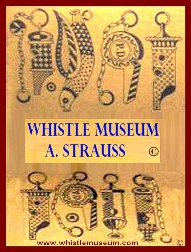 Wh

istle museum, A.Strauss
All rights reserved, please do not use any part of this web page without a written permission from the author
Trackbacks