Pencil & whistle combination, 11 samples.
Pencil & whistle combinations. A.Strauss

A mechanical pencil,automatic pencil, propelling pencil , technical pencil or a lead pencil is a pencil containing an internal mechanism which pushes or propels the thin graphite lead through the tip.
Pencil & Whistle Combination, gold plated, victorian,
R. Perry & Co 90 Church Street, Birkenhead England.
Nickel Plated brass with pull out whistle & Stanhope peeper top, unknown maker.
Enemeled silver pencil holder w pull off cover by V.G & Co.
German pencil with pull off top round whistle.
Perry & Co. England.
Sampason Mordan, inscribed "we are seven C-Mass 1883 ".
Bone whistle with Brass pencil & Stanhope peeper of Ramsey.
Sampson Mordan, London, Ribbed spiral whistle & retracting pencil.
14 ct. gold by James Howell & Co., silversmith.
Sampaon Mordan, Silver.
J Hudsomn & Co. See entree for this referee's whistle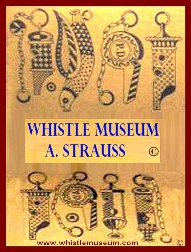 Wh

istle museum, A.Strauss
All rights reserved, please do not use any part of this web page without a written permission from the author
Trackbacks