Paper Whistles, Paper toys, Cardboard whistles, Accordion whistles, Squeaking postcards, Bellow whistle, Lehmann Tut-Tut Tin car & More (At work, notes would be added)
Share
Victorian Cardboard whistle , Diecut mechanical bird whistle Penny Toy.
by RAPHAEL TUCK & Sons Ltd. printed in Germany.whistle museum.
Tuck was a famous maker of Paper penny toys in the 1890's, located in London,
this one was printed for him in Germany.
Chic & Rabit squeaking, whistling novelty postcard. D.R.G.M . Germany 1930's.
German Novelty squeaking, whistling postcard were made up to the 1960s.
The above is what I call Chameleon Paper tongue action whistle, many time refered to as a noise maker, It is a
reed
tin whistle with a paper tongue that is rolled and folds and when you blow it the paper tonggue opens like a Chameleon's tongue when it hunts.
Ussually these types which were popular for many years and still made as party
toys
are ovelooked by most collectors. If they had some, they might be able to afford the best
hotel Punta Cana
has to offer or another
Dominican Republic hotel
.
The above is the
front
and the back of a 1920's German made
sample
. It's very rare.
This Paper Mache Moon face is a penny toy with wood mouthpiece hosting a brass reed toy whistle, Noise maker, the thread is pulled to get it's mouth open, I had seen very few variations, it is a very delicate toy and a wonder how they survived thru all these years.c. 1900 -1910's Germany.
Japan late 1930's
France, Advertising Menier Choclat.
Rare Candy container. wood card board and Paper mache ; stamped Germany on bottumn ,Used in the U.S.A 1920's 30's.
German Paper Mache 4 by 8 inch. 1920's 30's.
-
Whistle wheel for Firworks
The Canary Bird, that was a popular novelty paper horn, reed whistle came in 4 sizes.
Japanese bird bellow operated, paper accordion squeaking 1940s.
Chirping
penny toy bird with a with friction whistling mechanism made of wood, aluminum, thread and paper, a tricky toy made of 4 different materialsof the 1920s. Germany. very rare.
wood paper and tin
Advertisng premium for shoes it does have a bellow accordion whistle.when one waves it back and forth it makes a whistle sound.
-

These wonderful babes were suppose to make man whistle in the 1950's
These are called squeaking postcards, the backside shows the mechanism,made of tin.
Squeaking novelty postcards, USA1950's.
see "Sgt. Preston of the Yukon" every week on CBS - TV
Sgt. Preston T.V. Show adv. (1955) on a heavy paper whistle that is made in a simmilar way to Gilbert's novelty package, USA patent # 1,860,710 of 1931 .
The next one is an advertistment whistle from Italy 1950's I believe.
with same diecut.
Paper whistles are a fascinating subject,
different diecuts tricks designs and patterns can be made and are wonderfull for kid's workshops. Lots of Fun and noise
These can be painted and drawn and some patterns are easy to cut.
I will bring few samples in the future in another entry, shall you decide to do some .
Scroll down to see video of how to make a paper flute whistle.
Closer view of the accordion type mechanism of the next animals cardboard squeakers, noise-makers and whistles. Made in occupied Japan.
Occupied Japan bellow, paper accordion cardboard whistle series, This is the lion Duck & elephant, but there are at least ten more different animals in the series. there is also a pre-war japan series of this type.
Here are some older types obviously influenced by German graphic style and themes in the 1920's 30's , earlier ones as tsome of these are marked Nippon not Japan.
CARDBOARD WHISTLES
are a wide theme within itself, collected by very few but it certainly mirrors well some aspects of daily life in America between 1910 to 1940's.
At 1909 Frank G. Fawkes
of Chicago patented a COMBINATION ADVERTISING NOVELTY AND TOY Pat. # 918,835 which was applied for a year earlier
.

This one is one of his early whistles, Made by F.G. Fawkes & Co. Chicago.
It opens like a book as most card board whistles
I will devote a long chapter or few to these soon. 3 Pictures of the same whistle 'cover' and inside . The actual whistle is made of a small paper strip that serves as a reed and with little practice one can get a large variety of notes and sounds.
Later ISIDOK HEIDENREICH
registered the "Advertising Novelty" Patent of 1917 # 1, 235, 799 .
see other articles here about card board whistles .
The'Tut Tut' tin toy car
with a paper whistle

is a wind up car, probably the most well known toy made by E.P. Lehmann founded in 1881 in Brandenburg, Germany.
Pat. USA May 12 , 1903 , His toys are brightly coloured and made of thin Tin. The whistle is located underneath the car and is actually a paper bellow, paper accordion whistle operated mechanically. Highly sought after by toy collectors.
First patented in Germany it was also registered as patent in The U.S.A. , England, and france.
Earlier Paper Premium whistles, Angelus,etc...To be cont
Late 1940's

Prolific
Cracker Jack
prize designer, C. Carey Cloud, developed hundreds of prizes for Cracker Jack
from the 1930s through the 1960s. Known as "year-round Santa Claus", it is estimated that he created, produced, and delivered to the Cracker Jack Company 700 million toys.
1 1/4"
x
1 15/16"
paper whistles were created by C. Carey Cloud .
The Cracker Jack Company ordered these embossed paper whistles from Cloudcrest in 1948 and again in 1949. All are red and off-white.
There are few very rare variations excluding the 10 in the series,
some of these are very rare ( The wolf for example)
Because it is a popular collectible I should propably devote an in depth look into these in the future.
Cloud wrote about the difficulty in perfecting these paper whistles in his autobiography,
"Cloud Nine"
, pp. 52, 55:
Once I designed a paper fluted whistle. They said it couldn't be done. I had to find the right weight and quality of paper that would stand sharp embossing. This accomplished, we went into production of several million. However, we found that about every twentieth whistle failed to sound. They had to be one hundred percent whistle-able. Furstrating as it was, we made new dies, and still some failures occurred. I recalled what Harrison McDonald had told me in my growing days: 'Go where the knowledge is.' I went to the Hammond Organ Company, in Chicago, taking along a handful of whistles. I asked to see their engineer and was ushered into his office; I told him my problem. He patiently took several whistles apart. Then he told me what the problem was, as simple as it was. We made the correction and had no further trouble.
The 10 whistles in the series are illustrated and show

a boat,
a cat,
a clown,
a monkey ,
a train
a long-necked crane,
a Scottie dog,
an open-palmed hand
a wolf
an owl
Indian totem poll
The wolf is the rarest one of these whistles. (not seen here)
How to make a Paper Flute Whistle , a speedy version.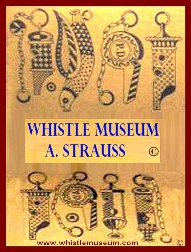 Whistle museum, A.Strauss
All rights reseved please do not use any part of this web page without a written permission from the author. Whistle Museum, 2008, by A.Strauss (All rights reserved)
http://www.avnerstrauss.com
, no part of this webpage should be used without the explicit permission of the owner.
Link to bird food
http://www.petsboutiques.eu/pet-supplies/group/41/bird-food
Trackbacks