Extractors and whistle Combinations, Type A, None Folding Types (15 samples) A.Strauss
Extractors (Firearms), cartridge pullers were used to pull out bullet shells from old hunting guns, shot guns,
These are all nonefolding extractor combination whistles that mount on top of round pea whistle types.
Defined here as TYPE A .
Type B , see another article
here
C will be discussed in other articles here in combination whistles and multitools.
The extractors come in different gauges, most common is 12 bore.
They were made from the 1850s to as late as 1920s.
Type A has few main variations whish I hope to discuss in the future.
one see the different variations here, easy to see there are long neck and short and others.
A group of 5 none TYPE A (None folding Extractors), Two on the right are made by Dixon & Sons, second right is a very early made one propably 1850s. The long neck one is a Hawksley.
12 Gauge bore J. W. Hawksley 86 mm
above note loop hole in the middle of the short 'neck' typical of some German and Swiss made ones.
I think of these parts above the round pea whistle as a neck a head and a crown, the Large loop as head and the Claws as ,crown,.
Hawksley extarctor stamped, 12 bore, with a long stem (neck) pictured above , note the unique window design that was used only by Hawksley & Dixon and sons, earlier models and on very rare round pea whistles some go back to pre 1870's and earlier.
Extractor 12 Bore and whistle , The same model exists as rare 8 bore & 16 Bore , a very rare whistle. all 16 Bore gauges are rare and seldom combined with whistles.
This model has a bubble shape (Round Knop) loop attached to side and a flat top with 3 claws. (No stem).
Made by Hawksley. Another rare model was made by Hudson on the top of a GSW.
body L; 60 mm, Tube diameter; 14.95 mm. will bring a photo soon.
A German made extractor whistle. again a unique design with loop in the middle of the stem. Typical of german and swiss whistle extractors.
8' bore gauge with long stem, (Flat crown no 'head').
A batch of three different french made extractors. all 19th century.
Below is named Nimrod ( Hunting god in the ancient epoch of Gilgamesh) , and was made by Dixon & Sons.
This kind of extractor was made in france and used 1850s to 1870s.
The maker intials are L.F. , French made , these type of extractors were used with old french system shotguns.
L; 86 mm
Tube diameter; 12.85 mm , with some fine ornaments engraved.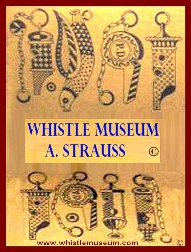 Whistle museum, A.Strauss
All rights reserved, please do not use any part of this web page without a written permission from the author.
whistle museum, A Strauss, All rights reserved ,Copyright © 2009.
Trackbacks