American Whistle Manufacturers. Makers & History, by Avner Strauss, Whistle museum articles, ( At Progress)
American whistle manufacturers. Makers & History

By Avner Strauss Copyright © 2008

Intro.

This is the first attempt done to list the major American whistle makers, manufacturers along with some obscure ones , and slowly as time permits cover their history & bring samples of their whistles and patents.While British whistle manufacturers were well researched and sum up to few dosen makers, not including silversmiths and potters that made whistles, American whistle makers & companies, some small, amount to only a few hundreds, With the exception of Bird calls, game calls, Duck calls etc. and None- mouth whistles as Steam, Marine, car whistles and others, some well documented in Books.
American whistle makers were little searched and even less written about, in fact not at all.
If we include the game calls and bird calls makers of the 20th century,the number rises by a few hundred more."
Obviously if we are to include makers of toy whistles, plastic whistles and others it would be only a very partial list.

Collectors usually differ between makers of "Professional whistles " usually made of metal and used by police army sports
and are refered to at times as General service whistles, and others.
Since whistles were used in such diverse fields there are many manufacturers that made none professional whistles,
here are some examples of ussages , many are part of history today, some still being constantly made used and developed.

Toy whistless, Avertising whistles,Hunting whistles, Police & Army whistles, Musical whistles, Jewelery, Novelty, Dog whistles, Car whistles, horns, Transportation, Marine whistles , Sport's whistles, Ethnic whistles, Folk whistles,
comunication whistles and more . I concentrated on profesional whistles but had mentioned others as well .


Usually identification of makers relies on either :
1) Printed matter; Catalogs,& advertisments . ( sporting goods , music instruments , novelty items, penny toys, police supplies, toys and others ) Old magazines and news papers, old phone books.
2) Body stamps , trade marks or patent number.
3) Study of construction and components .
4) Guess work by style, deduction and feel that is at times subjective until proof found.
So here is a partial list of American whistle makers , it is a work in progress and hopefully would be updated soon,

@@ means there is a more detailed article based on original research published here with history & Samples
from the museum, ALL RIGHTS RESERVED. ( HIT NAME TO VIEW THE ARTICLE)
@ An article with few samples was published here. or a picture of a whistle by that maker in another article or entry here.
This article is devided to four sections
First section mostly metal whistle makers including silversmiths companies and two paper whistles makers.

second; Tin Toy Makers ( some cast metal as well )

Third ; Plastic whistle makers.

Fotrth ; Bird calls & game calls makers.
---
U.S.A. whistle manufacturers

American Whistles Co.
American Plating & Manufacturing Co. @ chicago
A.N.C. walnutport Pa. 1923
Attleboro Manufacturing Company
James Avery * Kerrville, Texas,1954
Banks & Brothers @@
Bridgport Gun & Implement Co. (B.G. I) @many Conn.
D.F. Briggs Co . @ Attleboro, MA
B & R @@
Benjamin Harris Co. N.Y. @@ (Incomplete)
Briggs & Co. D. F. Briggs Inc. Attleboro, Ma. 1882
R. Blackinton & Co. * @ Attleboro, Massachusetts 1862
Camco @
Colsoff Horn Co. @ . 93 W Tompkins st. Columbus Columbus, Ohio
Wilcox Crittenden & Co.
Cruver MFG. Co.
Cooperman Fife & Drum Co. Centerbrook, Conn.
Distin & Sons ( Phila.)
F.G.Fawkes & Co. @@ 358 Dearborn St.Chicago/542 S. Dearborn St./538 S.Clark St./Pontiac Bldg.
Field Manufacturing co. New York
Frank Holton & Co. @
Frankfort Horn Co. Ohio
Frary** @@ Hartford, Bridgport.Conn
Fauro *** Manhattan
S A French @
Gorham Manufacturing Co. * @@ Providence, R.I.
Gotham Metal Works @ New York N.Y
Gray Brothers ( Tin) Plano, Illinois
E. A. Gill
Heidenreich (Cardboard whistles) @ chicago and St.Louis ,Mo.
Hatch Manufacturing Co.
Horstmann Philadelphia
Iver Johnson Co. @ Boston
Johnson whistle co. ( F.L. Johnson)
Kirchoff Newark N.J.
Leedy Manufacturing Co.(Ulysses Grant Leedy) @ 1898,1904 to 1929 Indianapolis,Later in Elkhart
Ludwig & Ludwig @@ 1910 to 1929 Chicago and Ludwig from 1955 on
John P. Lovell Arms Company 1844 Portland , Maine
McKintosh
Mossberg Wrench Co. @@ Attleboro Mass. and later (see history) R.I.
Marx Toys @
North Bros. Phila. @
Overmann Wheel Co. @@ Chicopee Falls, springfield, Mass.
J W Pepper Phila.
The Pettibone Bros. Manufacturing Co. *** @ Dist. Bean Police whistles and
Perco Philadelphia
The Play Tone Co. N.Y.C. U.S.A.
Reach @
Regent Mfg.Co. @
Risdon MFG CO. @@ (warbler) Naugtuck, Conn.
Jerome B. Secor Manufacturing Co. @@ Bridgeport Connecticut
SERON MFG, CO. (Suren V, Inventor) 15W.Jefeson St. Joliet, IL
George W. Shiebler & Co * @@ New York city
Silby & Holmwood @
Sanborn Products Company @ dog whistles 1940s Mentor Oh.
J & E Stevens @ Cromwell Conn.
Charles W. Thomas @@ Assinippi / accord Mass.
Tiffany & Co. * 1837
Tryon Co.
Tootsie Toy ( Cast metal +)
Unger Bros.* @ Newark, NJ, 1872-1914
Union HDW Co.
Waterbury Manufacturing Co. @
Weeden Mfg. Co.
Wilson
Willard MFG.Co. @@ Melrose , Ma.
R Woodman Boston Ma.
Yerkers MFG. Co 1910 catalog N.Y
_
There are many other manufacturers of which one sample was found
and I have no more details of: C.K (tripplepipe) , Mcintosh , (Two tube whistle ) , and others.
To be cont.
* silversmith
Gorham see article here
Sheibler See articl here

** Tin

*** The Pettibone broth. may not had been the actual maker but a distributor.
I believe that some arms & sporting goods companies may not actually be the manufacturers but I mention tsome I did not mention. some, with more research, may prove to be makers, with time I hope to make another list of whole sellers and large suppliers , that would propably go with a list of American stamps on foreign made whistles or whistles used and found only in the U.S,A made in Germany Japan France etc. particullarly for the American market.
---
Tin Toy Whistle Makers,
(At work)Some made cast metal and mentioned in the first section,
some still need proof they made whistles this is to be clarify soon

George W. Brown & Co. Forestville, Connecticut 1856 - 1880 Merged with J. & E. Stevens in 1868
First manufacturer to produce toys with clock-work mechanisms.
Beginning perhaps as early as 1850. Known for classic boats, vehicles, animal platforms toys, dancing figures, and hoop bell toy, fashioned in painted tin.
Althof, Bergmann New York City, New York 1867-1880
Tinplate trains, bell toys, still banks, horse drawn vehicle. One of the first U.S. toy makers to build carpet running trains, renowned for painted clockwork toys, notably the hoop variety.
Merriam Mfg. Co. Durham, Connecticut 1856 - 1880
Enameled tinplate clockwork toys. Continues today as a box manufacturer; ceased toy production in 1880s. Known for such classics as "Horse on Sculptured Base", ptd by William A. Hardwood, Brooklyn, New York, plus "Rabbit in Hoop".
James Fallows & Sons Philadelphia, Pennsylvania 1870 onwards
Organized under name C.B. Porter Company. In 1894, name was changed to Frederick & Henry Fallows Toys.
Firm began carrying his name about 1880. Principals were James Fallows and his sons, Henry, Charles, and David.
Painted and stenciled tin horse-drawn, wheeled vehicles, trains, and river boats. Highly prized toys often carried marl "IXL", said to be based on word-play "I Excell".,Some feel that it signifies the date of Fallows' arrival in Philadelphia from the old country.
Fallows' demise coincided with the advent of lithographed tin toys in the 1880s.
Ferdinand Strauss Corporation New York City, New York 1900s - mid1940s
Major producer of tin mechanical toys from 1914 to 1927
J. Chein & Co. New York City, New York and Harrison, New Jersey. 1903 - 1979
Other names: Became known as Chein Industries, Inc., in the 1970s.
tin mechanical toys, banks, drums, and tea sets. Tin toys were lithographed. Chein's line of comic and circus tin toys received wide acceptance in the 1930s and leading up to World War II. .
Acme Toy Works Chicago, Illinois 1903-1907 Clockwork toy cars.
Nonpareil Toy & Novelty Co. Newark, New Jersey Post-WWI to late 1940s
Lithographed tin toy trucks and wagons, mostly of the penny toy or tiny prize package toy variety.
Acme Toy Works Chicago, Illinois 1903-1907 Clockwork toy cars.
Hafner Mfg. Co. Chicago, Illinois 1900 to 1950
Joined with Edmunds-Metzel Co. in 1907 to manufacture trains and mechanical toys. Became American Flyer Manufacturing in 1910 and was sold to Wyandotte in 1950. When Wyandotte closed its doors, Marx acquired Hafner dies
Lefkowitz Toy Co. Brooklyn, New York Early 1900s onwards , Ingenious Rube Goldberg-type mechanical tin toys(i.e., The Flying Cupid).
Union Manufacturing Co. Clinton, Connecticut 1853 - 1869
Hull & Stratford acquired this small tin toy-producing firm in 1869.
Bing Corp. New York City, New York 1924 - 1935 Spin-off of German firm, Gebruder Bing.
Served as jobber for parent firm with mechanical boats, zeppelins, and steam engines.
Unique Art Mfg. Co. Newark, New Jersey 1940s onwards
Comic/character tin mechanicals, including "Li'l Abner Dogpatch Band" and "Gertie, The Galloping Goose" 1940s.
Weeden Mfg. Co. New Bedford, Massachusetts 1883 - 1888
Produced working toy steam engine in 1884; also steamboats, fire engines, and automobiles in miniature with steam as motor power. Manufactured several ultimate rarities among clockwork tin mechanical banks, including "Ding Dong Bell" and "Japanese Ball Tosser".
Jerome Secore Manufacturing Bridgeport, Connecticut 1872 - mid1880s
Introduced a line of sewing machines plus mechanical singing birds at the 1873 World's Fair, Vienna. One of the first patented toys; a sheet brass whistling bird, the American Songster. His ingenious clockwork creations included; "Brudder Bones, the Banjo Player", "Sister Lucinda at the Play", and the rarest most coveted of all mechanicals "The Freedman's Bank". Secor sold his business to Ives in the mid-1880s. He continued to design and manufacture clockwork toys through Ives.
Jeanette Toy & Novelty Co. Jeanette, Pennsylvania 1898 onwards
Lithographed tin toys, including trays, tea sets, and figural glass candy containers.
---
Plastic Whistle Makers ( a very partial list,



Applause Co.
Auburn Rubber Co. Deming, NM
Bacon Bros.
B & R
Chicago Musical Instruments co.
Commonwealth Plastic Corp. Leominster, MASS.
Elmar
FLEX WARE , B W MOLDED PLASTICS. 1950s
Franzite
Gerber Plastic Co
G & R
Lewis & Scott Mfg. Co.
Proll Toys Inc. 104 Verona Ave. Newark 4, N.J.
Pyro , New Jersey
P.E.I. Co.
Spec-Toy Culars Inco. 33-35 35th st L I city G NY
Transogram Comp. Inc., , . , . ,
Lional , , , ,
Trophy Music Co.
Tico Toys Rosbro
Tootsie toys
Union Plastic corp.
Viscoloid
to be continued
--------------------------------------------------------------------------------

Bird call, Duck calls, Game call & whistle makers (A partial list) ;
starting c 1860s
Elam Fisher,
Carles Schoenhieder,
Charles W Grubbs,
Fred F Allen ,
Victor Glodo,
Tom Turpin,,
Melancon,
P.S Olt,
Red Duck Calls,
Charles H Perdew,
David S Fuller,
C H Ditto,,
J W Reynolds,
G Peterson,
G. D. Kinny,
J. Cochran ,
George Herter...
.................. to be continued.
Here are some early dates for a general historic perspective
1870, Elam Fisher issued the first duck call patent, on a tongue-pincher-style call

1880, Fred Allen duck call
1885,David Fuller, goose call patent .
1889, Charles Grubbs duck call first advertisement.
1905, Phillip S. Olt receives patent for adjustable tone duck call
It should be noted again that American duck calls and other game calls makers history was thoroughly researched and documented in many books .
It seems that American whistle makers were neglected or no one thought it was important
enough to write down, so the study is really in its beggining and may be in a way more exciting since there is a lot of unknown & lost history and mistery to be unveiled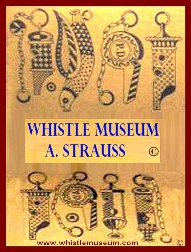 Whistle museum Article by Avner Strauss, All rights resreved, Copyright © 2008 no part of this web page should be copied or reproduced or used with out explicit written permission from the author.
Trackbacks