English whistle manufacturers, Whistle Makers In England, List History and Links. By Avner Strauss, ( Work in Progress)
English whistle manufucturers, makers. British Manufacturers.
AvnerStrauss
List of British whistle manufacturers, hit name to see articles I wrote about the maker's history and samples.
It is still a work in progress. @@ means there is an entry with detailed History & samples of this Manufactrer ,
others are yet to be published here. @@ + means there other entries with more samples by that maker.
@ means there is a sample here, @+ means few enteries with samples by this maker.

Also look at footnotes to get some more information about the whistles made, and the article about American Whistle Manufacturers that has more notes which would apply here as well .


The four large centers of British whistle manufacturing were Birmingham. Sheffield, Glasgow and London ,
noted silversmiths were in Chester Edinburgh & Dublin and others as well ( Scroll down for Silversmiths).
Undoubtedly Birmingham was the main center of whistle manufacturers.
Potters, Clay whistle makers, Ivory & Bone turners and makers of wood (2) whistles
are not listed here at this point because of luck of info.

See additional makers ***
Many silversmiths made whistles and are not listed here, as it is in progress.
I chose some I have whistles made by, in the future I will add others.
More info about silversmiths & Hallmarks can be found see google British Silver Hall Marks.

James Allen *(silver) @
J. Adams * (Silver)

Adie Brothers. Adie Bros, Atlas Works, Soho, Birmingham & 110 Great Hampton Street, Birmingham (Kelly 1936) and by 1950 Adie Manufacturing Co., Forster Street, Aston Cross,Birmingham

S Auld @@+ Glasgow

J Barrall @@+ History, Samples Birmingham

S.B.Barnes London
Bartram, Howard & Snowden Devonshire st works, Sheffield
B & H Whistles

Bent & Parker @@ Birm.

Black &Co. @@ Glasgow

Cascelloid & Co.*** (Palitoy) (since 1919 ) Liecester
Combex***

Coney & Co. @@ Birm.

Denhame & Proud (1) @ London

William Devenfort (Silver) @ Birmingham

M Y Dart Co.

A De Courcy & Co + Many@ @@+ Birm.

Distin &Co. (Musical Instruments makers.) @@ see additional makers

Boosey @

Dixon & Sons +@(Various materials)@@ Cornish place, Sheffield.

J D Dougall (1) Glasgow

W Dowler & Sons @@+ Birm.

J R Gaunt &Sons Birm. Reg, Hallmark 1800

G & J W Hawksley +@ @@+ 73 Carver St., Sheffield

Hawksley & Sons, @ oxford St., London

J. Higham ( Musical Instruments makers). @@ Manchester

Hill Bros.*** Sheffield

Hilliard & Thomason (H & T) * @ Spenser St. Birm.

J Hudson & Co (Various materials). @@++ Birm.

H.W.A. with Lilly Birm.
Joseph Jennes & Co. * (Silver)
KÖHLER & Sons @@ London
Levi & Salaman ( L&S) (Silver) * Birm.
D Lewis (1) Birm.

J Linegar J.L @@ Birm. since 1865

B. Lily & Sons @@ Birm. Since 1861

McDonald @@ Glasgow MacNaughton (1) @ Glasgow

S Mordan ( Silver) @@ City Road & RegentStreet,. London

C. Parker @ 42, Cherry Street Birmingham. since 1840's
R Perry & Sons Co. 90 church St., Birkenhead
Pringle & Sons Middlesex since 1907

R A Walton @@+ Birm.

H A Ward @@+ Birm.

Rudd Bros. (Tin)
Rodnoid***

J Stevens & Sons @@+ Glasgow & London

Stadium Ltd. Birm.
selcol *** +

W & A Smith (Wood) @@ Mauchline, Scotland
Smith & Wright @@ Birm.

H W Short London
Summers ( Silver)* London
Sonogram***
Sykes & Son, (Thomas Sykes) 36 Duke St. Sheffield
Joseph Taylor * early 1822 @@ Birm.
W Thornhill & Co. *(SIlver +) @ London
George Unite (Silver) @@ Birm.
C T Willets Heneage St. Birm.
Joseph Willmore * @@ Birm,. Since 1773

Yapp & woodward *

T Yates @@+ Birm.

Foot notes @@ means there is another entry with detailed History & samples of this Manufacturer

---
*** == Additional Manufacturers==

Additional manufacturers of brass instruments, horns, hunting horns, some made whistles occasionally or suplied whistles made by other makers.
Besson & Co. - Besson instruments were sold in the UK from 1840-1855 by John Pask and after that from 1855 - 1858 by Louis Jullien from 1855 - 1858. Besson then opened their own London branch at 198 Euston Road London.Their instrument were stamped F.Besson with the monogramme FR from 1869 to 1885. From 1885 - 1895 the monogramme became FB . After 1895 the stamp became Besson & Co . The UK business was bought by Boosey & Hawkes in 1948 .

G.B.Butler - started up in Dublin in 1826, then opened a London branch in 1858.Marked "Butler Haymarket London and Dublin".The Haymarket address puts it between 1865 and 1898.
Boosey & Co - In the 1850 Boosey & Co started making brass and wind instruments and merged with Hawkes & Son in 1930.
E. GREAVES - @ 1840s 50s at least Manufacturer of Pitch Pipes and tuning devices, 56 South Street, Sheffield — Manufacturer.
Henry Potter - 30 Charing Cross, London. The Potter family were prominent manufacturers of military musical instruments from 1809 till the 1950's. This horn can be dated between 1858-1904, when Potter was based at this address, (then moved to 36 & 38 West Street , Charing , London).Henry's son George also participated in the family business, relocating to Aldershot in 1859 at which time he established his own firm of George Potter & Co. This firm focused very much on military band instruments. This company bought the London Potter firm in 1918 and remained active into the late 1930's.
Henry Keat & Sons - Henry Keat made horns for all the leading saddlers including - Merry , Whippy , Wilkinson & Kidd , Cornish & Rogers as well as Army Navy Stores and Potters of London .When Swaine & Adeney took over the business of Kohler & Sons in 1907 Keat & Sons made all their Hunting Horns till 1984.
Rudall Rose & Carte - operated from various addresses in the 1800's.From 1821 to 1852 the company was just Rose & Carte. From 1852 to 1857 Rudal Rose & Carte were at 100 New Bond Street , London. From 1858 till 1878 they resided at 20 Charring Cross , London. In 1872 they became Rudal Carte & Co. And from 1878 onwards the address was 23 Berners Street , Oxford Street , London. The company was eventually bought out by Boosey & Hawkes in 1943
Swaine & Co - James Swaine started in business in 1798 and moved to 185 Piccadilly in 1835 .Swaine & Co dates horns to before 1845 when James took his nephew into the business and the company became Swaine & Adeney . SWAINE & ADENEY
SWAINE & ADENEY 185 PICCADILLY LONDON PROPRIETORS OF KOHLER & SON MADE IN ENGLAND. Horns made after 1851 usually bear the exhibition medals from that year. Swaine & Adeney merged with Brigg's in 1943
Richard Porteous 25 Queen's Square Westminster in the 1830's
In 1849 his address is registered as 6 & 7 Gloucester Place, Chelsea, London.
J Russell, 80 Goswell St London


---
== Silversmiths ==


I am adding and will add more to these and may seperate in the future,
You may like to check
Hallmarks of English silver web site


English silversmith
British Silver Whistle Manufactures, silver makers marks, sterling
Additional Silversmiths
whos made whistles
, underconstruction

H.W A. Ashford
Birmingham
since 1866
T Phipps & E Robinson
London
since 1783, whistle dated 1804 hallmarks
Mary Chawner
widdow of William Chawner II (Reg 1915)
London
1819
Joseph Wilmore
Birmingham since 1798 ( Bosun marked 1835 )
Joseph Taylor
Birmingham 1822 first noted whistle
Joseph Bent
Birmingham ( Reg, 1842)
Levi & Salaman
( L&S) (Silver)
Birmingham
George Unite
Birm.
Yapp & woodward *Roberts & Belk
(Samuel Robert & Charles Belk ) Hallmark SRCB
Sheffield
1867 Furnival Works (Buson 1867)
Charles Rawling
1912 Buson Birm.
J W Kirwan & Co Birminham
(Sterling siren whistle 1886)
T J Birmingham
( 1881 Sterling match-safe, vesta whistle) Unknown
A.&J. Zimmerman
Birm ( Banana shaped vesta)
James Adam Birm
( GSW 1898)
F.D
. London (
1878 vesta whistle combination
)
Thornhill & Co. W.T.
Early 1800 Early cased simple Beauforts and many more. see article History and samples @@
http://whistlemuseum.com/2013/10/14/walter-thornhill-whistles-history-1878-antique-silver-whistle-and-more-.aspx
English Silversmiths, English Sterling Hallmarks,
British silver Hallmarks, Whistle makers, SIlver Makers Hallmarks.
City Marks:
Birmingham, Sheffield, Chester, Exeter, London, Glasgow, York, Edinburgh,
Dublin,

-
Additional notes :
William Dowler & Sons
. Graham St. Works, Birmingham 1 (in 1946) Founded 1774, probably as Thomas Dowler of Great Charles Street, brass candlestick makers.(RR1780). By 1846 they are listed as medalists. Amalgamated with Firmin in 1969.
Thomas Dowler
, 91, Great Charles Street, Birmingham, brass fire furnishers and manufacturers. Wrightson Directory 1835
M Dowler & Son
, Great Charles Street, Birmingham, candlestick maker. by Commercial Directory 1816
Firmin & Sons Ltd.
, Globe Works, Villa Street, Aston, button makers Birmingham

J R Gaunt & Sons
, prior to 1913 trading for 200 years as Ed Thurkle in Woostone Parade 33, Clifford St., Aston, Birmingham.
Boosey & Co
bought out Henry Distin of 31 Cranbourne St ,
Leicester Square
in 1868 so any Boosey horns bearing the Distin trademark would be later than that date ;Boosey & Hawkes Ltd
Boosey & Co merged with Hawkes & Son in 1930 so horns made after this date were stamped Boosey & Hawkes.
==Famous Retailers ==

McPherson & other Glasgow retailers


Glasgow
Manchester
Liverpool
London

To be cont.

*
Silver

***
Plastic.
**** Made of Horn.
(1) One type whistle known to be made by.
(2) W & A Smith being the exeption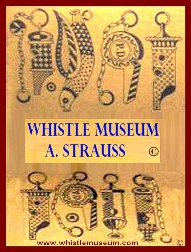 Whistle museum, A.Strauss original research, All rights reserved, please do not use any part of this web page without a written permission from the author. British whistle manufacturers, By Avner Strauss , All rights reserved, no part of this webpage and articles are to be copied without the explicit written permission of the owner. Copyright © 2008
Trackbacks