J. Dixon & Sons whistle Manufacturer History & Examples. by A. Strauss
Dixon & Sons ,Gift of Dixon family to Sheffield City Museum at 1938 .

J Dixon & Sons (James Dixon & Sons)

James Dixon (1876- 1852) Founded the co. in 1806 at Sheffield, in partnership with Smith after being an apprentice with Samuel Broadhead for 7 years (1790-1797) and then working for Richard Constantine, Dixon Became one of the major British manufacturers in the Industrial Revolution of the - 19th century.
William Frederick Dixon his son joined the company in 1923, In 1835 James Willis Dixon another son, joined the company and the name was changed to James Dixon & Sons c 1838 instead of Son.
It was in 1835 that Dixon registered his Silver Hallmark.


1834 Advertisment Dixon & Son.
Dixon were the best-known manufacturer of Britannia metal, and also the world leader in manufacturing shooting accessories thrugh the late Victorian era, and made numerous other items from precision tools to aircraft propellors,
They were particularly known as whistle makers, known for their outstanding quality, and were one of the 4 great whistle makers at the period, the others being W Dowler & Sons, J Stevens & Son, & T Yates.
Addreses:
Silver Street (1806) Sheffield.
Cornish Place (1822) Sheffield .


* Their registered trade mark since 1879 was a Trumpet with a Banner hanging from it.
* The firm continued to be a family run enterprise until 1976. .
* In 1915 the company sold its stock to an Italian Co. and ceaced manufacturing shooting accessories.
Since 1976 The company was purchased and was in an American ownership.
and was closed at 1992.



Dixon & Sons whistle A Pre 1845, Beaufort type with Ivory MP Swaine & Co. London, 88mm Strauss Collection.

Early history

Whistles first appeared in a Dixon catalogue in 1883 though some of their whistles appeared in gun, rifles & sporting goods catalogs of American manufacturers & distributors as early as 1872 or earlier for dog calls made of Britannia metal, see J. H. Johnston at Great Western Gun Works, Pittsburgh PA. catalog
Early models of Dixon horn made Round pea whistle type were in use with carriage drivers & railway conductors since the 1840s and mailmen of the Post Office as early as 1850 .
Models, whistle types & Materials
Dixon manufactured whistles of Sterling Silver, German silver also known as nickel silver, gun metal, Britannia metal, ivory , and horn, often using cocoa wood for fipples, A unique feature by which their round pea whistles can be identified.
Dixon models were intended mostly for outdoor sporting goods, such as hunting related dog calls, shooting gadgets combination whistles, extractors of various kinds and round whistles in multiple sizes of over 50 different models, Beaufort whistles & double chamber type .

Dixon did not make Escargot-type whistles. It was not known that Dixon & Sons made general service whistles (GSWs) until 2006 when one was discovered by myself .You may see a different entry here with one of the two copies known.
At 1938 The family donated a collection of whistles made by Dixon to the City of Sheffield, the collection is displayed at the City Hall and pictured at a brochure about Sheffield's arm accsesories makers. See Picture.
It does represent only a partial number of the many whistles they made, and new models previously unknown are still discovered.
At 1947 Dixon took over Hawksley of Sheffield. (see history of British manufacturers here) .
Body stamps
Most of the Dixon whistles found are not stamped, as it was not customary to stamp whistles in the earlier Victorian era,
(ones made of sterling silver are a standrt exeption ) , As a result all of Dixon stamped whistles are very rare; the ones stamped J. Dixon & Sons are be a bit less rare than the others, as is the Dixon Logo of Trumpet and Banner.
Stamps found on their whistles are:
" Durham county constabulary " on Tappered round whistles , some refer to as short Beauforts.
Distributors name stamps found include:
"C. Parker Late Merry Parker & Merry", "Merry Phipson & Parker", "C. Parker" ,
" Priest Oxford St." , "F. Sykes", "Patstone Southampton",
"Swaine & Co. London" .
The stamps: "Nimrod " and " Patent No.33196 " (Moffatt's patent 11396 of 1887) are to be found on extractors and shooting gadgets as well as stamps of numbers 8, 12, & 16, showing the extractor (cartridge puller) gauge.
Sheffield Hallmark Some rare sterling silver whistles are found with the standard British silver hallmarks of the time and initials "J.D & Sons".

written by Avner Strauss, whistle museum notes 2008 .(All rights reserved ).



Tappered round whistle or Short Beaufort made by Dixon stamped C. Parker.
(Note, During 2012 I discovered C. Parkert was a Birmingham independent Railway whistle maker in the late 1840's and 1850's).
Same whistle side view

Early round pea whistle with a distinctive window design of the 1860s or earlier can be used as an identifing feature. (though Hawksley probably used the same type window) very rare, first found 2009.


A small 45mm round pea whistle with notched window, Dixon & Co.
were the first to use this window design that became popular with many makers it does have variations. Acron top and small finial that was an imitation of horn whistles.

42mm variation with grooved round knop



Beaufort whistle by J Dixon & Sons, Nickel silver , 2.75 inch , This model was made in 4 sizes.


Dog call hunting whistle & Shooting gudget, 3 inch closed, 3.5 inch open. Model N220.



Turned bone round pea whistle by Dixon, L; 70 mm.



Dixon's Iargest Ivory model of round pea whistle. 76.6 mm D; 24.5 mm


Early Round pea whistle made of Horn wood & brass By J Dixon & Son. c.1840s, 50s, 10cm, used by Railway & Postman. There are simmilar smaller models that are very rare,
this whistles were originally made in the 1840, I believe pre 1852 and the pressing patent , using the sharp end of the stag horn one whistle could be made from each horn.
This type has a distiinct wood fipple that can be used as Identifying feature (A.S.)


.


-


-


Round Pea whistle ande a shooting gudjet Model 104N Dixon & Sons.



A Silver Hallmarked Beaufort whistle dated 1899.

To be Continued as catalogs are scanned & more samples to be photoed.
See more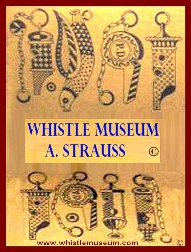 Whistle museum, A.Strauss All rights reserved, please do not use any part of this web page without a written permission from the author. A.Strauss, Copyright © 2007 All rights reserved For text and Images.
Trackbacks