H A Ward Bm, Thunderer, Escargot-type whistle c.1889 .Whistle Museum ( All rights reserved ).
H. A.Ward Thunderer whistle, Henry A. Ward was a whistle manufacturer based in Birmingham, active 1889 to 1908.
the whistle is from the early 1890's.
See my article there H. A., Ward History and samples.
http://whistlemuseum.com/2009/02/06/h-a-ward-double-pipe---the-city-whistle--c-1890s-birmingham-whistle-museum--all-rights-reserved.aspx

London type Escargot whistle, Ward is known for two rare Glasgow type escargots:
Alpha Model # 23 and Model # 24, Patent # 2980, both very rare.
Until this one was found it was not known he made any London type escargot whistles.
One known to exist.

t

The whistle is stamped under the beak
H.A.W. Bm.




Ward's whistles are all very rare.
a simmililar whistle was made by McDonald stamped McDonald Maker Glasgow McDonald was associated with H A Ward late 1880s early 1890's with the improved call Glasgow type escargot.

Whistle museum archives. A Strauss article. Copyright © 2008No part of this webpage should be copied or used without the explicit permmision of the owner.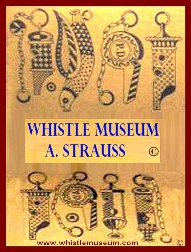 Whistle museum, AvnerStrauss All rights reserved, /2009/03/22 please do not use any part of this web page without a written permission from the author.






Trackbacks