J. Hudson & Co. Whistle Manufacturer History. By A.Strauss

The First J.Husdon Police Whistle , Manchester City Police, Made at 17 Mark St. Adress Pre 1882 & The 84 Buck. St.
J. Hudson & Co. Whistle Manufacturer History

J Hudson & Co. f
ounded in the 1870s in Birmingham by
Joseph Hudson

(1848- 1930) and his brother James Hudson (1850 - 1888) . The Company was to be come the world manufacturer of whistles and is still active today as Acme Whistles.
Sample 1. First J.Husdon Police Whistle , Manchester City Police, Made at 17 Mark St. Adress Pre1882 . More samples by Hudson with details in
other entries here

Adress


17 Mark St. Birmingham (J.Hudson workshop) 1870 - 1882
84 Buckingham St. Birmingham 1882 - 1884
131 Barr St. Birmingham 1885 - 1888
13 Barr St. Birmingham 1888 - 1909
244 Barr St. Birmingham 1909 Onward.
History
The company was family run for over 100 years and 3 generations; Joseph Hudson's son, James Clifford Hudson, and his grandson, Leon Clifford Hudson ran the company after Joseph retired. Today named Acme Whistles the company's manager and owner is Simon Topman.

While studying the company's history I divided the history of the company to four periods that seemed right upon studying the patents, materials, design & construction of actual whistles, the whistles well reflect the periods.

First period -
divides to Early first period ; Up to Hudson winning the contract of supplying the Metropolitan Police with 7000 whistles at 1884 and after that contract,
later first period.
Early beginning; Joseph Hudson started working at the age of 12, at various jobs, later he began working for Bent & Parker a long established company of army supplies and whistle makers in Birmingham.
at 1970 age 22 he started his own Business with younger brother James. The 1884 contract gradually made Hudson the largest whistle manufacturer for British Empire Police and other general services.
The 1890's sees Hudson faced with the rise of many competitor makers and companies .
The continuos Growth of Hudson at the end of the Victorian era and the end of the first period, can be viewed by few events, related to 10 other whistle manufacturers, events which are parallel to the company's growth.
timeline ;

* 1898 Hudson purchased Black & Co. and kept making their models.
* 1898 J Barrall ends his whistle making Business.
* 1901 Hudson is making whistles for J. Stevens & Sons.
* 1904 Hudson purchased R. A. Walton.
* 1907 Hudson purchased S. Auld Whistle making business
and kept manufacturing their models especially the Round " pignose " type known as 'Glasgow type police call'. *1) FOOTNOTE
* 1904 Hudson is filling whistle orders along with De Courcy for W. Dowler & sons who stops manufacturing whistles.
* During this period, Coney & Co. stopped making whistles and Hudson is making their models.
* In early 1900 Hudson is making whistles on a small scale for Bent & Parker.
* At an unknown date c, late 1890s early 1900 T. Yates stops manufacturing whistles.
* Circa 1908 H. A. Ward stops making whistles.
To sum it up, in a period of 10 years. 1898 to 1908 all other whistle makers actually end making whistles, leaving Hudson and De Courcy as the two major whistle makers in England.

Second period
Starting 1909 at a new Building in the northern part, 244 Barr St., saw a change in their whistle making as well as expanding to more markets in the continent and over seas, with an office in [[Paris]] a large 1910 French catalog, and new connections with U. S. A. sporting goods companies and distributors, Hudson is left with just one smaller British competitor A. De Courcy & Co from 1909 to 1927.
In 1927 Hudson purchases Alfred De Courcy patent rights, tools and stock.
Hudson is becoming the world largest whistle maker gaining the Thunderer Registered Trademark. The Acme thunderer whistle and its variations becomes the world largest selling type whistle.
This transition time 1925 -1930 sees 3 generations of Hudson family running the business together and resembles the end of the Golden age of whistle making.
Speaking of history one can see a strong connection between the flourishment of the Victorian Era and between the rise and fall of the British empire and British companies changes.

Third Period - 1927 to 2000 Modern Era .
The beginning of this period certainly stands in the shade of the Great Depression and the changing demand of the market using more and more plastic materials for making calls and whistles, trying to keep costs down and competing in a market that was flooded with cheaper tin and cast base metal whistles, made in Germany, Japan, U.S.A. & other countries.

On October 26 1940, the factory received a direct hit from a German air raid, no one was injured but the factory suffered a major crisis which took months to recover . The ARP whistles were made during the next few years and dated whistles for army, navy and RAF equipment as well as for Civil Defence.
In 1949 the firm is newly-constituted as J. Hudson & Co. (Whistles) Ltd. . Leon C. Hudson becomes its first managing director.
The 1950s & 60s saw the growing demand for Hudson sports whistles, Olympics and other sport events in 5 continents.
At 1957 A. R. Topman becomes an assistant general manager and about 40 years later his son Simon Topman would become the owner and the Managing director of the company .starting the fourth period of the company developments.
Fourth period -2000 onward, Nowadays 21 Century.
The factory name changes to Acme whistles and the factory sells about 5 million whistles year and keeps registering new Patents for whistles. The period is marked with a growing competition from far east and Chinese manufacturers .
Most of the whistles sold are made of plastics were once, more whistles constructed from sheets of brass were made, but many old partly hand made models of high quality are still being produced in a traditional way.
Some Patents, Registered Designs & Trade marks

1885 No.435 whistle-diaphragm disk
1891 No. 19868 Threepiece & Knop Glasgow type Escargot
1897 No.19640 London type escargot with parallel sided mouthpiece.
1898 No.19700 whistle-diaphragm disk
1907 No.1112 Whistle combined with pocket knife
1907 No.25619 Whistle attached to a wrist strap
1908 No. 5727 Two piece top for GSW's
1908 No. 10898 Two additional caps to cover barrel ends and a heavy wire toothgrip on Escargots
1911 No. 28999 Unibody GSW
1923 No.213487 Groove in cap for Escargot-type
1923 No. 214519 Pressed top
1924 No. 21487 Groove in hump back cap for wiring

Registered Designs

1895 no.256361 Double end whistle Metropolitan plus Round pea whistle-type
1893 no. 217010 Oval whistle
1897 no. 311230 Oval whistle with oval Porteous top
1909 no. 540164 Pillar top
1910 no. 571215 Finger gripo loop knop for escargots
1924 no. 705987 Compass replacing top cap

Registered Trademarks

The Metropolitan 1884
The Acme 1886
The Kinglet 1907
Acme city 1907
Emca 1922 (Acme in reverse)
Acme 1927

* The above tables shows essential patents and registered designs out of many and up to 1927.

Catalogues ; * 1935 Acme whistle catalogue ( English )
* 1910 Acme whistle catalogue ( French )
Models & Whistle types See Samples here
While many makers concentrated on limited variety, J Hudson & Co practically made most of the common whistle types & Bird-calls, Duck calls, Dog Calls, Fox calls, & musical whistles
as well as sound effects & slide whistles and novelty combination whistles.
Some models as the ''Thunderer'' & the ''Metropolitan'' general service whistle, cylindrical type being popular during most of the company's history up to date.
Materials
Hudson was the only Maker in U.K actually using Wood, Horn, Bakelite, Plastic & Silver Beside other metals ,while other firms were making either solely metal or other materials, J Dixon & Sons at the 19th century being the exception.
Anecdotes & Facts
* An Ashtray made of pewter signed J. Hudson 1863 is probably the earliest work stamped by him.

* A corkscrew and whistle combination from 1876 is marked by J.Hudson.

* When the Factory was bombed, piles of whistles scattered, a 12 years old boy sneaked one, he later served as a Railway conductor for over 40 years using that whistle, upon his retirement he visited the factory and handed back the whistle dated 1940 saying he felt he should return it.
* An original Titanic stamped Acme Thunderer whistle supplied at 1912 to the whistle line, was recently sold at a London auction for £3100.



Body stamps
Hudson stamped General service type whistles that were ordered for thousands of various police forces, Constabularies, Railway companies, Fire Brigades, companies, and for distributors world wide as well as for general services and police forces in the British Colonies.
Address stamps are more commonly found on the GSWs than other types as the Escargot-type .
some early police small arms inspection marks, Army Broad arrow stamp appeared on dated whistles and others.
Many of Hudson stamps carry the address and supply an easy tool to date .
* Metropolitan police whistles had a hand engraved number at the back of the very early ones and punched on later ones .
The book "Collecting Police whistles"by Gilchrist & Topman, gives an in depth look at some of the variations and classifies these as MP-1 to MP-22 .
* The Mark st. address is not known to have been used on any whistles , and beside the addresses mentioned at the top table , the address Barr Street Hockley was used on many whistles post WWI.
* The stamp of 131 Barr St. is extremely rare on escargot-type.
* Early GSWs have a Patent & J Hudson & Co stamp on the diaphragm.
* Acme was and is a common stamp on Hudson whistles and so was the name Emca ( same letters in reverse ).
* At times Initials consisting of a single letter or two are used as abbreviations; 'MH' for Mental Hospital 'FB' for fire Brigade' P' for prison or police 'T' for tramway and others.
* Stamps of particular model or popular names at one time or another "International", The King's Own, Taxi call etc.

*1) Proffesional whistles were mostly reffered to as "calls" while the term whistles was used more in
the context of toys . a more in depth look into the subject is in another entry. (A.S.)

* I hope to coninue the article in the future...in the mean time I added samples and notes there other entries here .
And also
http://whistlemuseum.com/2012/04/02/acme-whistles-salesman-samples-carded-whistles.aspx


Regards
Avner Srauss
Whistle museum notes 2008. ( All rights reserved ).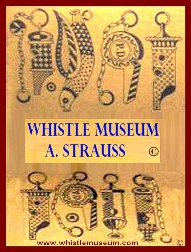 Whistle museum, A.Strauss All rights reserved, /2009/03/22 please do not use any part of this web page without a written permission from the authorץ
ההיסטוריה של ג'וזף האדסון גדול יצרני המשרוקיות באנגליה ותור הזהב של ייצור המשרוקיות
Trackbacks