=
-
The Sandown Park International whistle day is a great occasion to meet some great whistle collectors which are a small community,
and to hunt and blow some old whistles ,
The last whistle day 2013 was reviewed by Stephen Ford
www.demotix.com/news/1806213/rare-collection-antique-whistles-international-whistle-day#media-1806122
You may see more photos there.
The Intenational whistle day
Febuary 16th this year , was established by
Mr. Alan Kipping who organizes the sandown Park antique & Vintage fairs which occur monthly.
The whistles displayed on the postcard are from Mr. Kipping collection
Lets take a careful look at the whistles; we have 4 whistles that bring to my mind a favorite theme MIXED MATERIALS WHISTLES these are Brass whistles with Ivory mouthpieces ,
at times Mixed Materials whistles or whistles made of two or more materials have a wooden mouthpiece , at rare occasions a Horn made Mouth Piece ,
these were made during 1840 to 1930 and made to solve the problem of the mouth piece freezing and lips getting stuck to in cold weather.
Lets look at these one by one left to right
A Fire Brigade two note tubular whistle ( GSW) A Beaufort type whistle with Ivory Mouth Piece by J Dixon and Sons Distributed by Merry Parker c 1850s and probably 1860s A Kent Asylum 131 Barr St by J Hudson & CoAn Escargot Button type Whistle Birmingham Police
Another Railway Bell Type Whistle with acron top and an Ivory Mouthpiece c 1840s
A Button type Escargot whistle with Herts Police Buttons
A Tin Nose Whistle Patent Stamped A Tank Shaped Escargot whistle by J Hudson & Co c 1920s
9 top whistles , now we have 5 more
Left a Beufort with Constabulary Button by Dowler & Sons made to Hiat Reg, Design
middle a Devon Constabulary GSW with Crest top Prob made by Hudson
A Double Escargot type by S Auld Reg Design made for Lanarkshire Constabulary
(The same whistle as well as some others here can be seen in Martyn Gilchrist wonderfull book 'More Whistles' Pub 2005)
Left a single note tubular whistle (GSW as well) made by Stevens of Glasgow c 1840s 50s)
and last a Metropolitan GSW ( general service whistle ) by Hudson
For the Three Counties Asylum.
All superb antique british whistles and needless to say rare & Very Rare ones.
If you read the details (I scanned the post card hopefully I will get a better one! I did thanks Alan ! ) you may see Mr Kipping Alan Thompson Leif Bailey and my self will have a guest appearance. as well as few others .
I must say I meant to write about Mr Leif Bailey Collection and Website for long time
but had no time meanwhile mentioning Mr Thompson is a great opportunity to check some of his superb collection of Extractors and Hunting Gudgets and whistle combinations at Mr Baileys website
http://www.whistleshop.co.uk/hunting.html
This Great highly recommended
www.whistleshop.uk
website has over a 1000 whistles
( I think ) displayed by themes and subjects of a large variety,
and a lot of information as well as a section of whistles for sale with nice bargains every now and then,
Also on the post card advertising the whistle day you may see the
www whistlegallery.com
website run by Mr. Mcdowell , one of the more active collectors , researchers and knowledgeable whistle scholars, you may behoove reading some of the interesting articles there about metal whistles, also with a section of whistles for sale.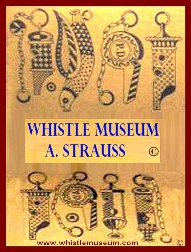 Whistle museum, A.Strauss Email: info@avnerstrauss.com